Le Cordon Bleu Ottawa Pastry Student Victoria Gibbons wins a Gold medal at Skills Ontario


Ottawa, ON (May 20, 2010) Le Cordon Bleu Ottawa Culinary Arts Institute is proud to announce that Victoria Gibbons, a pastry student from Le Cordon Bleu Ottawa has been awarded the Gold medal in the Skills Ontario  - Pastry and Baking competition. The competition was held in Waterloo, Ontario on May 18th. Victoria, who was coached by Le Cordon Bleu Ottawa's Chef Hérve Chabert, competed against 18 students from other pastry programs in Ontario to take home the grand prize. She will advance to the Canadian Skills Competition which will be held on May 21st and 22nd in Waterloo.
"I am ve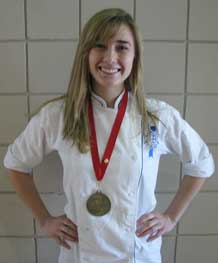 ry happy with what Victoria was able to accomplish. I know she is ready for the Canadian Skills competition" said Chef Chabert. Chef Hérve Chabert is a highly accomplished pastry chef and chef instructor with an extensive list of accomplishments.
"Le Cordon Bleu congratulates Victoria Gibbons on her accomplishments and wishes her all the best at the Canadian Skills competition" remarks Sylvie Sofi Alarcon, Prinicipal, Le Cordon Bleu Ottawa."This award speaks to the excellence of Le Cordon Bleu programs, the reputation of our school, and our teaching methods which remain unrivalled."

About the Cordon Bleu Pastry Program

The Le Cordon Bleu Pastry program provides students with the skills and techniques to work in the world's finest pastry shops and bakeries in the world. The program is taught by world class chefs who come to Le Cordon Bleu Ottawa from the finest hotels and restaurants in the world. The chefs at Le Cordon Bleu Ottawa have earned some of the highest accolades in the industry including Meilleur Ouvrier de France and Best Pastry Chef in the World.
The curriculum consists of Basic, Intermediate and Superior levels.
At the basic level, students commence by learning to prepare basic doughs, creams and fillings as they create classic cakes, tarts and viennoiserie. In the intermediate level, students develop their skills as they prepare sweet and savory petits fours, Bavarian creams and mousses, caramel and nougatine and fine chocolate including hand tempering and dipping. At the superior level, the emphasis is on decoration and presentation. Students are immersed in flavors, aromas and spices as they learn to make exquisite chocolate and sugar presentation pieces.
About Le Cordon Bleu
Le Cordon Bleu is dedicated to teaching classical French culinary arts programs and restaurant and hospitality management programs. Today Le Cordon Bleu Culinary Arts programs are internationally recognized and taught in over 35 schools in 15 countries around the world, training more than 20,000 students of over 70 nationalities every year. Le Cordon Bleu Ottawa Culinary Arts Institute is the only campus in the world that offers Le Grand Diplôme Professionnel.