Le Cordon Bleu News, 01/08/2010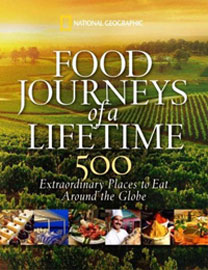 Le Cordon Bleu is proud to be featured in National Geographic's latest travel book; Food Journeys of a Lifetime, 500 Extraordinary Places to Eat Around the Globe. This new publication takes readers to some of the world's best markets, wineries, restaurants, and other gourmet hot spots with a stop at Le Cordon Bleu in Paris.
.
National Geographic goes on to say "Le Cordon Bleu is to haute cuisine what the fashion houses of the Faubourg Saint-Honoré are to haute couture. And here, in the temple of classic French cookery some of the world's most highly qualified chefs offer one to four day courses for food enthusiasts wanting to improve their skills in a range of areas." "For professionals, Le Cordon Bleu holds out the coveted accolade of its Grand Diplôme"

Peruse the book in our Web boutique or at www.shoplcb.com

LE CORDON BLEU TODAY
Le Cordon Bleu International has a presence in 15 countries with 35 schools, training more than 20,000 students of over 70 nationalities every year. Le Cordon Bleu has become one of the leading groups dedicated to culinary and hospitality management education. Developments in the curriculum of Le Cordon Bleu have led to the establishment of bachelor and master degrees in hospitality management in cooperation with international universities. Le Cordon Bleu has a tradition of excellence in the world of gastronomy and is committed to furthering the appreciation of gastronomy and the French art of living.