Le Cordon Bleu News, 08/02/2009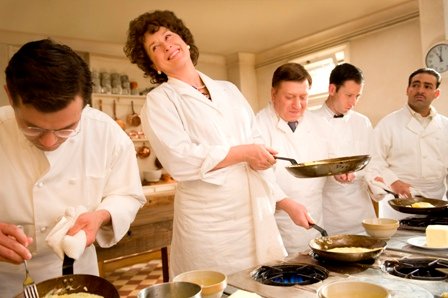 On Monday, July 27th, in celebration of the talented and energetic Julia Child, who studied at Le Cordon Bleu Paris, Le Cordon Bleu Ottawa has partnered with Sony Pictures for an activity filled day for media, renowned chefs, Le Cordon Bleu Alumni and VIPs. The day ended with the screening of Director Nora Ephron's screenplay, Julie and Julia, based on two true stories, Julie & Julia by Julie Powell and My Life in France by Julia Child with Alex Prud'homme.

Paris is known for many things including their markets. Just as Julia Child had once explored the markets in Paris with her chef instructor, Le Cordon Bleu Ottawa's, Chef Yannick Anton, and Ottawa Tourism's spokesperson, Jantine Van Kregten, led guests on a tour of Ottawa's Byward Market to explore the local fresh fruit and vegetable stands as well as cheese, meat, and fish vendors.

After the tour, a visit to Le Cordon Bleu Ottawa Culinary Arts Institute and a Culinary Demonstration of Julia Child's final exam dishes was organized. The menu consisted of "mollet" eggs in Béarnaise sauce, Veal Chops "en surprise" with Madeira sauce and caramel custard. The demonstration was followed live by Gremolata tweeters.

At the movie theatre, to whet appetites for the movie, exquisitely prepared 'amuses gueules' by Le Cordon Bleu Chefs were served at the Red Carpet reception. These bite-size hors d'oeuvres were inspired by Julia Child's English adaptation of the classical repertoire of French recipes in Mastering the Art of French Cooking and recipes that Julie Powell attempted to master in her own book.

After crepes were flipped and flambéed and guests were treated to a Sugar Demonstration, there was a special advance screening of Julie and Julia to work up another appetite!
Julie and Julia will be released in movie theatres across Canada on Friday, August 7th, 2009.