Le Cordon Bleu News, 07/24/2009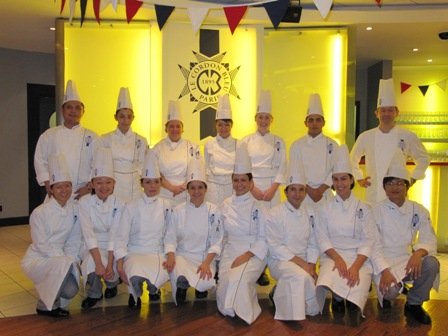 The evening began with drinks and canapés starting at 6pm.  The canapés were handmade by the Le Cordon Bleu London students under the supervision of teaching chefs, Loic Malfait and Julie Walsh.  The canapé selection was undoubtedly a huge success for the press as they sampled a variety from foie gras to gazpacho shooters followed by rosewater macaroons and lavender and white chocolate crème brûlée among others.

Chef Julie Walsh, Head Patisserie Chef from Le Cordon Bleu London, presented a Julie & Julia chocolate showpiece which reflected scenes from the movie. The showpiece was made using 35 kilos of chocolate and weighed approximately 50 kilos.

Le Cordon Bleu London would like to express their sincere thanks for all the hard work and enthusiasm that the students demonstrated in the lead up and during the event.  I'm sure this was a taste of what they will achieve once they graduate.