The book, Gastón Acurio, 500 años de fusión, edited by Hirka Roca Rey, was awarded as the Best Cookbook of the Year at the Gourmand Cookbook Awards 2009 which took place at La Comédie-Française on July 1st.
The book reviews and summarizes the history of several regional cuisines, including Japanese and Chinese influences and it features typical fresh Peruvian products.
Gastón Acurio graduated from Le Cordon Bleu Paris in 1992. He is considered today ambassador of Peruvian cuisine and recognized as one of the most important chefs in Latin America.
Hirka Roca Rey, was present at the event and received the prize from Edouard Cointreau, Président of the Gourmand Cookbook Awards.
Le Cordon Bleu International is honored, and congratulates Gastón and his team for this wonderful international achievement.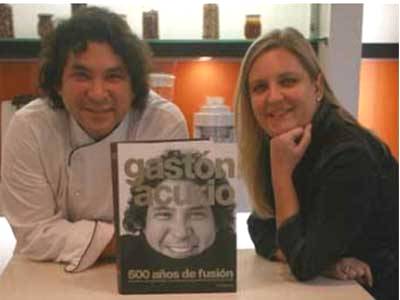 Le Cordon Bleu Paris
8 rue Léon Delhomme
75015 Paris
paris@cordonbleu.edu
www.lcbparis.com
Photo: Gastón, HIrka and the masterpiece