Julie Powell, author of Julie & Julia, received an Honorary Le Cordon Bleu Diploma from Mr. André Cointreau, President of Le Cordon Bleu International, during the Gourmand Cookbook Awards Ceremony which took place on July 1st, 2009 at the Comédie-Française in Paris.
The book, which was initially a blog, follows the story of Julie Powell, a secretary approaching her thirties who decides to take a sabbatical year to make 524 recipes in 365 days from Julia Child's book Mastering the Art of French of Cooking.
Julia Child became an American celebrity chef after graduating from Le Cordon Bleu Paris in 1951. Julia Child was one of the first women to introduce the French culinary techniques taught at Le Cordon Bleu to the American public, through TV emissions and many publications. Julia Child received the Légion of Honneur in 2000 and the Médaille Présidentielle de la Liberté in 2003. Julie Powell's project casts Julia as a model for the new generations of chefs and culinary amateurs.
Due to the success of the book, Julie & Julia is now a major motion picture (Columbia Pictures) produced by Nora Ephron, starring Meryl Streep as Julia Child, Amy Adams as Julie Powell and Stanley Tucci as Paul Child. The film will be released in United States on August 7th, 2009 and in France on September 16th, 2009.
Le Cordon Bleu and Julie & Julia website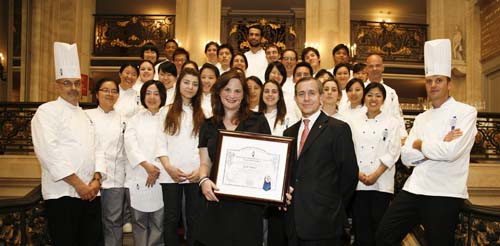 Le Cordon Bleu Paris
Etablissement d'Enseignement Supérieur Privé
www.lcbparis.com - paris@cordonbleu.edu