Le Cordon Bleu News, 03/27/2009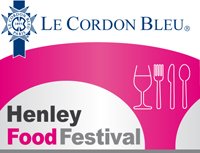 Le Cordon Bleu London is the proud sponsor of the "Le Cordon Bleu Henley Food Festival". Le Cordon Bleu Henley Food Festival is a two day event celebrating the best of English food; from supplier, to producer, to chef. It will be held on Saturday, May 16 and Sunday May 17, 2009 at Henley-on-Thames, a lovely town outside of London. How to get there?
Throughout the two day festival, our London Chefs will showcase their gastronomic talents before an audience of "foodies" in our demonstration arena.

The demonstration recipes, consisting of both Pâtisserie and Cuisine, have been carefully selected and are expected to make mouths water!

On Saturday, May 16, come and watch Chef Julie Walsh performing a Pâtisserie demonstration in the Celebrity Chef arena alongside some of this country's finest chefs.

We will also run a 'Petite Boutique' in our demonstration arena and in the retail arena of the show throughout the weekend. You will be able to find an exclusive range of personalised gifts recommended by the school's master chefs: cook books, gourmet products, fine food, fine tools, kitchen accessories and chef uniforms - in fact, everything a food lover could possibly want!

Whether you are interested in a short gourmet course, or perhaps a career as a professional chef, Le Cordon Bleu staff will be at your service to ensure that you walk away with all the information you need.
We look forward to meeting you at the show!