In The News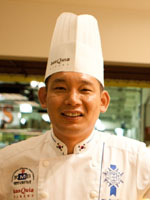 Bakery Diploma 2008, Kyung-Lyun Kim
Megamart Basquia Bakery, Master Craftsman Confectionary Making of Korea
Kyung-Lyun Kim graduated from the Bakery Diploma program in 2008. In university he studied architecture, but he changed his career because of good memories from his part time job at a bakery during high school. This was an important part of finding his vocation. He worked hard and accumulated diverse knowledge and skills at various bakeries. In 1998, he entered the Dongnae Tourist Hotel in Busan (Presently, the Nongshim Hotel) with the recommendation of an acquaintance and has been assigned to Megamart. Presently he is working at the Basquia Bakery in Megamart and is in charge of developing menus as well as managing the shop.
He did not settle for the present while at work. He joined Le Cordon Bleu-Sookmyung Academy, which was the part of the employee education program as he felt a need for self-improvement. He was able to build up various techniques. He especially gratified his curiosity about fermentation through the Bakery class in Le Cordon Bleu. It was very useful to create applicability in the culinary field. Since he went back to work, he has been trying to develop different kinds of yeast from ingredients such as alcohol, Korean rice wine and so on. He is making use of them in his new menus.
Kyung-Lyun Kim is a certified Master Craftsman in Confectionary recognized by the Association of Korean Master Bakers. He said that he will always try to develop his skills with modesty. If he is given a chance, he dreams of participating in the World Pastry Championship as the Korean representative. He wants to show the world the outstanding techniques as well as craftsmanship of Koreans with strong will.

When he educates junior staff at his work, he emphasizes that they should not blame their work environment. If students are full of complaints, it is only harmful to themselves. Before blaming others, he said one should change oneself. He advises future students that they need to push themselves hard, but be generous to others.
Information
Le Cordon Bleu-Sookmyung Academy

cordon@sm.ac.kr


www.cordonbleu.co.kr


02) 719-6961~2