In The News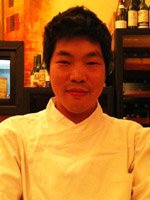 Dae-Woong Youm
Owner Chef, 'Blanc' French & Italian restaurant,Cuisine Diploma 2006
Dae-Woong Youm graduated from the Cuisine Diploma program in 2006. He changed his career when he became interested in the culinary field after a part-time job in cooking. He entered the Le Cordon Bleu-Sookmyung Academy because he needed more in-depth knowledge and techniques in French cuisine which could not be learned at work.
He had already taken relevant courses at cooking institutions but he recommends Le Cordon Bleu as the best education institution to learn French cuisine in Korea. Even the smallest techniques and every word of the French chefs have accumulated to become the foundation of his career. It was also very helpful to him in his work.
While in school and after graduation, he worked hard and obtained diverse knowledge and skills in famous restaurants. Presently he runs 'Blanc', a French & Italian restaurant. His ultimate aim is to open more restaurants and wine bars with his name.

He advises future students to be modest and concentrate continuously on self-improvement.
He added that graduates should not expect much more salary or better treatment just because they graduated from Le Cordon bleu. He said that they need to establish long-term goals with a strong willingness to learn.
Information
Le Cordon Bleu-Sookmyung Academy

cordon@sm.ac.kr


www.cordonbleu.co.kr


02) 719-6961~2