Le Cordon Bleu News, 02/13/2012
After the Graduation Ceremony, the School prepares itself to receive the new Cuisine and Patisserie groups that will start in January 2012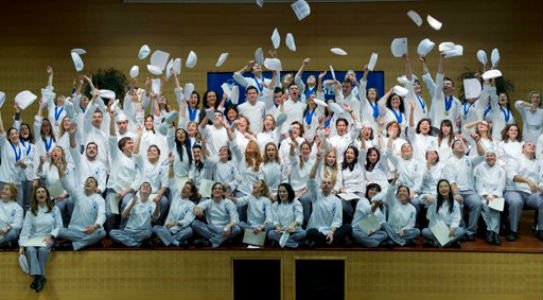 Pozuelo de Alarcón (Madrid), 22nd December 2011 – The renowned Cuisine School welcomed the Christmas holidays with their second awarding of Grand Diplôme®, and Cuisine and Patisserie Diplômes. Under the sponsorship of Rafael Ansón, President of the Spanish "Real Academia de Gastronomía" (Spanish Royal Academy of Gastronomy), Le Cordon Bleu put the finishing touch to nine months of effort and dedication with the Graduation Ceremony held in the Francisco de Vitoria University Campus.

At 5:00 pm the ceremony began with the words of Fernando Canal. General Manager of Le Cordon Bleu Madrid, who welcomed the students and their families and addressed an emotional message to those who completed their academic journey through the School. The diplomas, that were delivered to the students, are worldwide recognized credentials for their pursue of an international career in the culinary environment.

Rafael Anson sponsored the event and celebrated the success of the students dedicating them a few words: "A sponsor is not a good sponsor if he doesn´t have a sponsoree that calls him for help from time to time. From now on, all of you can count on me and on the Royal Academy of Gastronomy. "In addition, Anson said: "the future belongs to young people and their capacity to innovate and create".

During the Graduation Ceremony, the Basic and Intermediate Certificates were also handed out to the awarded students. After the ceremony, the graduates with their families and professors enjoyed an excellent cocktail prepared by the School Chefs.

Le Cordon Bleu Madrid is the third European School of the French institution, after the Paris and London premises. The Madrid School has completed its first year of academic life, and classes will resume in early January 2012 with two new cohorts of Cuisine and Patisserie students.