Le Cordon Bleu News, 12/15/2011
Sang-Jae Kwak, Cooking Manager, The Westin Chosun Hotel Busan
Initiation Cuisine 2011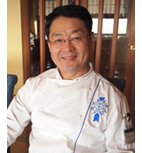 Sang-Jae Kwak is a student in the Initiation Cuisine class of the 2011 fall term. He majored in chemical engineering and worked in a relevant company after graduating from university. However he quit his job as it did not suit him. He studied cuisine at a Hotel school in Korea and presently he is working at the Westin Chosun Hotel Busan as a cooking manager. His family strongly opposed his decision to change his career as it did not guarantee a steady job, but now they are his biggest supporters.
Sang-Jae Kwak has more than ten years of experience in the western cuisine industry. Even so, he entered Le Cordon Bleu-Sookmyung Academy because he realized that he needed more in-depth knowledge in French and Western cuisine. It is not easy to integrate traditional western dishes perfectly at restaurants in Korea. Because there are both foreign head chefs and local chefs in almost all the kitchens. He is very satisfied that he can learn theory and practice of French cuisine directly from French chef at Le Cordon Bleu-Sookmyung Academy. He expects it to create a synergy effect for his present work. Furthermore he has been positively stimulated with his learning at the academy.
He advises future students to concentrate continuously on self-improvement. He emphasized that they need to study not only F&B but also other diverse fields such as medical science as the cooking field is expanding nowadays. He recommends them to experience as much as possible and establish good relations at Le Cordon Bleu for personal connections.