Le Cordon Bleu News, 10/27/2010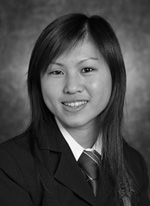 Le Cordon Bleu student Jessica Ho is currently undertaking the Professional Experience component of her studies in International Hotel Management at the Crowne Plaza Perth.
Since working as a Guest Service Agent Jessica has been nominated twice for the Employee of the Quarter, and has recently won the title of Brand Champion. The hotel recognised Jessica as the Brand Champion as she had consistently increased sign ups to Priority Rewards, a loyalty program, becoming one of the top 150 sellers of the program in the Asia Pacific region. They also recognised her positive attitude and willingness to assist guests.
On top of this Jessica has also played a major part in the project to make the hotel smoke-free. The issue of smoking complaints had been occurring for quite a while within the hotel without obvious resolution. Therefore Jessica took the opportunity from her Front Office Manager to compile a report looking at different aspects of the issue, such as: history of the guest requests, complaints, reason of room change and time/money that has been spent on dealing with smoking-related issues. The results of her report impressed the General Manager and the owner of the hotel so much so that the Crowne Plaza Perth has been transformed into a smoke-free hotel since September.
Le Cordon Bleu would like to congratulate Jessica on her win and say that we are proud of her efforts and dedication to her studies.