In The News

French International Rugby Star Challenges Former All Black In The Kitchen At Le Cordon Bleu Paris
Paris, 18 October 2010 – For one night only, acclaimed rugby star and former All Black, Chris Masoe, met with Dimitri Szarzewski, French International and Stade Français player in the unlikely environs of Le Cordon Bleu Cookery School in Paris. Each donning an apron instead of their rugby kit, they teamed up respectively with fellow nationals Chef Hamish Brown and Le Cordon Bleu Chef Philippe Clergue in a 'cooking match' using a selection of New Zealand's finest ingredients available in France.

An audience of more than fifty gathered to watch this culinary spectacle, co-hosted by New Zealand Trade and Enterprise and Le Cordon Bleu culinary school ahead of its New Zealand opening next year.

2011 will be a milestone year for New Zealand as it hosts the Rugby World Cup, one of the world's biggest sporting events expected to attract 85,000 visitors to the country. The tournament will not be just about rugby, it will also be a six-week celebration of all New Zealand has to offer, including its delicious food and wine.

New Zealand Trade Commissioner for France, Ariane Gonzalez, said: "New Zealand's produce is renowned for its high quality, freshness and flavour. Like the French, New Zealanders have a passion for food and wine, and we were proud to showcase many of our finest ingredients available in France at the cooking match."

"We also invite those visiting New Zealand in 2011 for the Rugby World Cup to take part in our food and wine showcase events which will be taking place throughout the country," said Ms Gonzalez.
André Cointreau, President of Le Cordon Bleu International underlines "...as with this cooking match, we too are beginning a season dedicated to New Zealand with the opening of our next school in Wellington at end of 2011. Indeed, we look forward to bringing our know-how of French culinary techniques to help promote the agri-food products of New Zealand. Our mission is to train future leaders and managers of tomorrow. Thus, Le Cordon Bleu continues its mission to serve local identities and communities worldwide."
Abundant productive land enables free-range, pasture-fed meat and dairy production, an extensive coastline with ocean waters offers a rich source of nutrients to fish and shellfish, both farmed and wild, and extended growing seasons result in ripe and wide ranging fruit and vegetable varieties.

Many of New Zealand's premium foods including lamb, venison, Greenshell mussels, Pacific oysters, boysenberries, Manuka honey and wine were incorporated into the menu to highlight their qualities and availability to discerning French consumers.


Dimitri Szarzewski and Chris Masoe with Le Cordon Bleu students and the organizers in the Winter Garden of Le Cordon Bleu Paris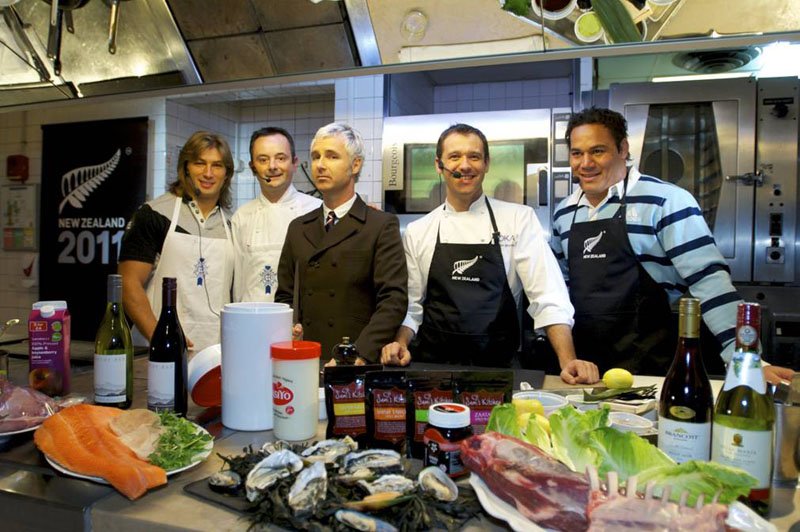 Dimitri Szarzewski, Chef Philippe Clergue, Host Darren Tulett, Chef Hamish Brown and Chris Masoe with the bounty of New Zealand products
About Rugby World Cup 2011
New Zealand is the host nation of the 7th Rugby World Cup, playing at locations across New Zealand from Friday 9th September to Sunday 23rd October 2011. With 85,000 visitors expected and a global television audience of four billion, the eyes of the world will be on this rugby-loving nation in 2011.
During this period New Zealand will be open for business on and off the field. It will be taking this opportunity to showcase its globally competitive strengths in the Aviation, Food & Beverage, Marine, Wood, Agritech, ICT and Cleantech sectors through a nationwide Sector Showcasing programme of events. European business people visiting New Zealand for the Rugby World Cup can sign up to the 2011 Business Club to get connected with like-minded business people and events of interest - more information.
New Zealand offers a stable business environment, sophisticated infrastructure and access to growing market potential in Asia.
About NZTE
New Zealand Trade and Enterprise (NZTE) is the New Zealand government's national economic development agency. We are your gateway to New Zealand business opportunities.
Through our global network of offices, NZTE works to connect international businesses and investors with New Zealand business opportunities. New Zealand encourages direct investment by and trade with international companies and business people, particularly those that result in the creation of new ventures, the relocation of existing operations to New Zealand, and strategic partnerships and joint ventures with New Zealand companies.
Our focus is on New Zealand businesses and industry sectors with high growth potential. For more information please visit www.nzte.govt.nz.
Adidas and the All Blacks
Since 1999, adidas has been very proud to be the main sponsor of the legendary All Blacks rugby team. The latter has played more than 100 matches equipped with the most technologically-advanced adidas clothes and shoes. As part of this partnership (running until 2019), adidas is providing the Tri-Nations champions with competition and lifestyle clothes, shoes and balls. This agreement also includes a partnership with the five Investec Super Rugby franchised provinces from New Zealand (Canterbury Crusaders, Auckland Blues, Waikato Chiefs, Wellington Hurricanes, Otago Highlanders). Adidas ambassadors Jonah Lomu and Dimitri Szarzewski are among the best players in the world.
A partnership with

For more information