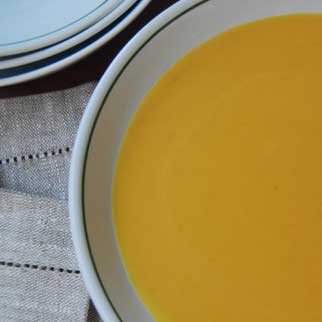 Preparation: 30 minutes
Cooking: 4 hours
Serves: 6
Ingredients:
Chicken Stock
Other Ingredients
600 g

butternut pumpkin, peeled and cut into cubes

30 g

unsalted butter

60 g

leek, white part only, diced

60 g

onion, diced
Optional
125ml

double cream

salt and pepper
A note about bouquet garni
*You will see bouquet garni called for in many recipes, especially in slow-cooked preparations. A bouquet garni is thyme, bayleaf, parsley stems and sometimes celery leaves that are neatly wrapped in the green part of a leek and secured with some kitchen string. It provides aromatic flavouring, that is removed after cooking. Some chefs will leave an extra long piece of string attached that they tie to the handle of the pan in order to make it easier to remove.
Method:
Chicken Stock Preparation:
Start by blanching the chicken. Cut up the chicken bones, wings and carcass and put in a pan. Add enough cold water to cover. Bring to a boil. While it is coming to a boil, skim the impurities from the surface. Once it comes to a boil, pour off the water and rinse if needed.


Add the onion, carrot, celery, peppercorns and bouquet garni.


Cover with fresh water and bring back to a boil. Reduce the heat and let the stock simmer gently for 2-3 hours, skimming off any remaining impurities or fat that rises to the surface using a small ladle. Strain the stock through a sieve into a clean bowl and skim off any residual fat. Allow to cool
Tip: When skimming a hot liquid of impurities and fat, prepare a small recipient with water for holding the ladle. This keeps the ladle clean with each pass.
Soup Preparation
Melt the butter in a large pan over medium heat. Once melted add the leek and onion and cook gently until translucent but not colored (this is called sweating).


Add the butternut squash or pumpkin, season with salt and pepper, and continue to cook for 5 minutes stirring from time to time.


Add the stock. Add water to completely cover the squash. Simmer until the squash is soft, 25 to 30 minutes stirring regularly. Puree using a blender or food processor. You may need to do this in two or three portions. Strain through a china cap sieve. Return to the boil, add the cream, adjust the seasoning and serve.
Note: if the soup is too thick, thin it out with additional chicken stock or cream.
» Study Cuisine or Pâtisserie courses to upgrade your cooking skill!