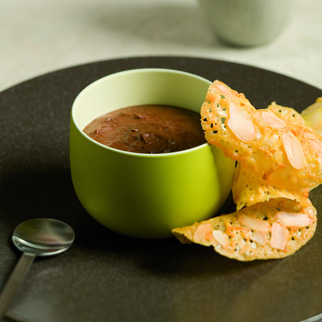 Preparation: 1 hour + 1 hour chilling
Cooking: 5-10 minutes
Serves: 6
Ingredients:
150 ml (5 fl oz)

whipping cream

180 g (5¾ oz)

chocolate

60 g (2 oz)

butter

4

egg whites

40 g (1¼ oz)

sugar

4

egg yolks
Orange tuiles
60 g (2 oz)

icing sugar

1 tablespoon

plain flour

grated rind of

½

orange

2 tablespoons

orange juice

25 g (¾ oz)

butter

, melted

10 g (⅓ oz)

chopped almonds

20 g (⅔ oz)

sliced almonds
Methods:
Whisk the cream to soft peaks, chill. Melt the chocolate and butter in a bain-marie (melt but do not over-heat). Whisk the egg whites to form stiff peaks, gradually whip in the sugar, a third or a quarter at a time. Delicately fold the egg yolks into the whipped cream, then fold in the egg whites, lastly fold in the melted chocolate. Fill small individual dishes, chill for 1 hour before serving.
Orange tuiles: preheat the oven to 180°C (350°F) Gas 4. Place all the ingredients except the sliced almonds in a food processor and process quickly. Place spoonfuls of the mixture onto a non-stick baking sheet, roughly spread out to form rounds, 5-6 cm (2-2½ inches) in diameter. Sprinkle with sliced almonds, bake for 5 to 6 minutes until lightly golden. Shape the tuiles whilst still slightly warm by rolling around a rolling pin. Place on a wire rack to cool.
To serve: Remove the mousse from the refrigerator; serve immediately with crisp orange tuiles.
» Study Cuisine or Pâtisserie courses to upgrade your cooking skill!