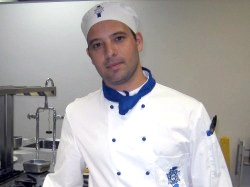 Pedro Roxo grew up in Brazil surrounded by great cooks. His first big influence was his grandmother, a great and proud Matriarch who cooked wonderful food every day. Pedro soon fell for the beauty of ingredients, preparation and meeting the family around a laden table.
Though initially studying Production Engineering at university he continued fostering his passion for food by working in Bistrô Muito Além do Jardim, with Chef Andre Vasconcellos, a bistro known for its French influences and use of fresh seasonal produce. It was his work here that influenced Pedro to turn his hobby into a profession.
In 2008, he decided to pursue his culinary aspirations by studying at Le Cordon Bleu in Australia where he was given the opportunity to work with great chefs like Marc Best, Justin North, John Daly and Darren Foots.
Pedro is adamant that his experiences at both Le Cordon Bleu and in Australia have had a major impact on his life:
"It was in Australia that I acquired experience in the real world of cuisine, far beyond the glamour and fashion of the profession, and I still loved it. Coming from Brazil and having to pay for my studies by myself was hard, but so rewarding. Since my second week of studies I worked at restaurants in Sydney to constantly learn more, and to save some money. I would like to thank all the staff at Le Cordon Bleu for helping and guiding me through this time. It was a great achievement for me completing this course."
Pedro has returned to Brazil and plans to open his own restaurant in a few years. For now he has started a business called MANJA gastronomia, working with a very specific style of catering, almost as a personal chef. Together with a dietician they supply customers with a customized "haute cuisine", using only the best ingredients from small family producers.
Le Cordon Bleu congratulates Pedro on all his achievements so far and wish him the best for his future restaurant.