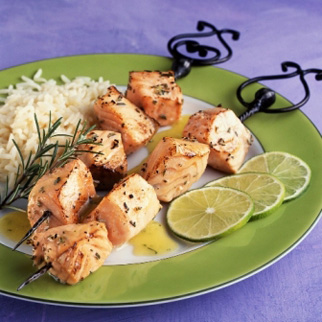 Preparation: 5 minutes, plus 10 minutes marinating
Cooking: 5 min
Serves: 4
Ingredients:
4

thick salmon fillets

, each weighing 150-175 g (5-6 oz), skinned

salt

and

freshly ground black pepper
Marinade
2

garlic cloves

1

small fresh rosemary sprig

100 ml (3 ½ fl oz)

olive oil

2 tablespoons

lime juice
To serve
lime

slices

2

fresh rosemary sprigs
A fresh and light main course, good in summer with a delicate accompaniment such as boiled rice or new potatoes and leafy green salad tossed in curry lime vinaigrette.
Methods:
Check the salmon and remove any fine pin bones. Rinse the fish and pat dry. Cut the fish into 2 cm (¾ inch) cubes, place them in a shallow dish and sprinkle with salt and pepper.
Make the marinade. Finely chop the garlic and the rosemary leaves. Place in a jug with the olive oil and lime juice and whisk until blended.
Pour the marinade over the fish, turn the cubes until they are well coated, then cover and leave to marinate for 10 minutes. Meanwhile, preheat the grill.
Thread the cubes of fish on kebab skewers and grill for 5 minutes, turning once. Heat the marinade in a small saucepan.
To serve: Arrange the skewers on a warm plates and spoon over the hot marinade. Serve immediately, with the lime slices and rosemary sprigs.
Chef Tips:
You can marinate the fish for slightly longer than 10 minutes if you like, but don't marinate it for longer than 1 hour because the lime juice has the effect of 'cooking' the fish, as in the Mexican raw fish dish called ceviche. There is nothing wrong in this, but the salmon will overcook and become too soft during grilling if it has been marinated for too long.
» Study Cuisine or Pâtisserie courses to upgrade your cooking skill!