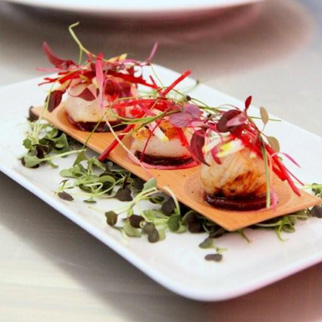 Preparation: 20 min + 1 hr marinating
Cooking: 45 min
Serves: 4
Ingredients:
Marinade
2

vanilla pods

, split

100 ml

olive oil
Beetroot two ways
2

fresh beetroots

50 g

butter

sugar

,

salt

and

freshly ground pepper


---

1

fresh beetroot
Horseradish 'espuma'
50 g

fresh horseradish

, grated

250 ml

whipping cream

salt

and

freshly ground pepper
Garnish
baby beetroot leaves

1

Granny Smith apple

, cut into fine julienne
Methods:
Marinade: Scrape the seeds from the vanilla pods and mix with the olive oil, place in a bowl together with the scallops, marinate for at least 1 hour in the refrigerator.
In the mean time, cook two beetroots in salted boiling water until tender, about ½ hour.
Horseradish 'espuma': Combine the cream and fresh horseradish in a saucepan and place over very low heat for at least 15 minutes to infuse the liquid. Strain the horseradish liquid through a fine sieve, season and keep warm until required.
Beetroot two ways: Once the beetroots are cooked, refresh under cold water, peel, then cut into 1 cm thick and 3 cm diameter disks using a round cutter. Keep the trimmings. Melt the butter in a saucepan, add the sugar and caramelise the beetroot disks. Keep warm. Peel the remaining fresh, uncooked beetroot and cut into very fine julienne. Set aside.
Liquidise the reserved cooked beetroot trimmings and stain through a fine sieve into a small saucepan.
To serve: Pour the horseradish liquid into a cream whipping gun and follow manufacturer's instructions to pressurise the dispenser with gas canister provided, place dispenser upright in a bain-marie.  Remove scallops from marinade, keep the vanilla oil. Sear and mark the scallops on a hot griddle, about 1-1 ½ minutes on each side, arrange 3 beetroot disks on a plate and place a scallop on top of each. Top with a few baby beetroot leaves and the julienne of apple and beetroot.  Gently heat the beetroot liquid and whisk in the reserved vanilla oil to make an emulsion, and drizzle around the plate. Shake the cream whipping gun and dispense some horseradish 'espuma' onto the plate. Serve warm.