Le Cordon Bleu News, 05/19/2010
Secaucus, NJ, – May, 2010 – Le Cordon Bleu and Cengage Learning announce two landmark culinary publications: Le Cordon Bleu Cuisine Foundations the definitive guide to classic French culinary techniques (Hardcover ISBN-13: 1435481372, $59.95) and Le Cordon Bleu Cuisine Foundations Classic Recipes available in softcover and also hardbound spiral for easy kitchen use (Softcover ISBN: 1111306877; Harcover Spiral ISBN: 1435481380, $24.95)
From the chefs of Le Cordon Bleu, the preeminent international culinary arts educational experience, these publications celebrate the history of French culinary techniques and infuse them with modern interpretation.

"We took our cue from the many students and graduates around the world who were looking for a single reference that would explain and show the techniques that have existed and been respected for more than three centuries." Andre J. Cointreau, President, Le Cordon Bleu International.

Extensively researched, Le Cordon Bleu Cuisine Foundations and Le Cordon Bleu Classic Recipes pay homage to generations of chefs who have upheld and passed on their passion for cooking using contemporary technology to redefine gastronomy. These chefs represent the art of cooking.

Le Cordon Bleu Cuisine Foundations is beautifully illustrated with nearly 2000 photographs, and designed to teach the secrets of this renowned culinary arts school. Focusing on techniques and recipes, it provides a foundation for perfecting the fundamentals – ranging from vegetable cuts to roux, stocks, and sauces, to mise en place and preparation.

Le Cordon Bleu Cuisine Foundations Classic Recipes celebrates the techniques involved and the value of ingredients used. The featured 169 recipes convey the history and evolution of French culinary technique.

Step-by-step photographs detail the essential techniques and basic preparations. Easy to use conversion charts provide a handy U.S./metric reference. Sidebars and notes throughout provide additional information from defining commonly used culinary terminology, to fun and interesting facts on a variety of culinary topics.

Together these books allow mastery of the basics as well as the most intimidating techniques and recipes. Those who practice and eventually master these techniques will not only become better cooks – they will learn to create with confidence.

Gourmets, foodies and professionals alike will find this to be a treasury of recipes and techniques.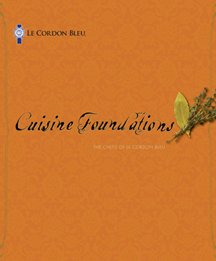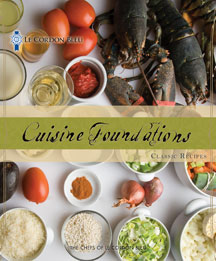 Learn more about the book or request a copy: Click here
About Le Cordon Bleu International
Founded in Paris in 1895, Le Cordon Bleu has trained several generations of chefs worldwide while instilling its unique passion for the art of cuisine. Today, Le Cordon Bleu is the preeminent culinary arts educational experience worldwide; its very name is synonymous with culinary excellence. For more information please visit www.cordonbleu.edu or visit our online boutique at www.shoplcb.com for other books and gourmet products.

About Delmar and Cengage Learning
Cengage Learning is a leading provider of innovative teaching, learning and research solutions for the academic, professional and library markets worldwide. Delmar, part of Cengage Learning, is the leading provider of lifelong learning products and services for the health care, technology and trades, and career education markets. For more information please visit www.cengage.com/delmar.
Media Contacts:

Margaret Warren
Le Cordon Bleu, Inc.
201 809-2530
Email: Margaret Warren

Lindsay Brown
Director of Corporate Communications
Cengage Learning
(203) 965-8634
Email: Lindsay Brown

Kristin McNary
Senior Marketing Manager
Delmar, Cengage Learning
(800) 998-7498 x 2372
Email: Kristin McNary