In The News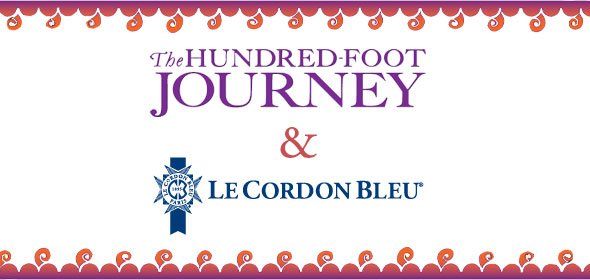 Food is all about passion.
When you enter one of our kitchens, you can feel the creativity that emanates from every pot, pan, cutting board and gas burner. Some of the oldest and most celebrated recipes (such as Coronation Chicken) have been prepared by Le Cordon Bleu chefs - Chefs who today dedicate their lives to sharing their knowledge with the most passionate students. Boeuf Bourguignon, béchamel or crème brûlée are more than just recipes for us, they are words of love coming to life every day.
This Summer, a new Dreamworks film featuring Le Cordon Bleu will be released globally. It is a film that shares the same values and fondness for cooking as we do: The Hundred-Foot Journey.
In the movie, Hassan (Manish Dayal), a self-taught culinary genius decides that he wants to pursue his passion and learn French culinary techniques. And it all started after he discovered one of our Le Cordon Bleu books.

His determination to learn from the best and passion are very similar qualities to those who we see every day in our students. He believes that by refining some of the key techniques of French Cuisine, he will be able to achieve his dream and live for his passion.

Every day Chefs at Le Cordon Bleu work with students to develop their skills and encourage them to always remember their origins when cooking. For some of our students, studying at Le Cordon Bleu was their 100-foot journey and they achieved their dreams after their time at our school.
Discover some of Le Cordon Bleu alumni's stories here .
The movie featuring Helen Mirren, Charlotte Le Bon, Manish Dayal and Om Puri will be in UK cinemas from Friday 5th September. An up-lifting and feel-good cultural feast full of Indian spices, French sophistication and British wit, The Hundred-Foot Journey is an absolute must see.
On 2nd September, Monsieur André Cointreau President of Le Cordon Bleu International, awarded three honorary diplomas to the cast members of The Hundred-Foot Journey. Read more.
For more information