In The News

Bring the vibrancy of Brazil into your dishes!
This is Brazil's year thanks to its role as the host of the Football World Cup. Brazil is well known for its fine sandy beaches, the Rio carnival, the samba, capoeira and caipirinha, the famous cocktail made from cachaça, lime, crushed ice and sugar cane. Brazilian cuisine is relatively unknown outside of Brazil.
Brazilian cuisine is, however, rich and varied. Rice, beans and cassava flour are the pillars of Brazilian cuisine. To this basic trio of native ingredients a variety of other ingredients, which resulted from the various migrations that took place throughout the country's history, can be added. Brazilian cuisine is the result of the marriage of European (specifically Portuguese and Italian), native and African cultural traditions.
Brazilian cuisine's individuality does not end there. Brazil's total surface area measures approximately 8 515 000 km² with varied biodiversity between both the sea and the land. Each region, therefore, has its own specialties:
Cuisine from the South-East is the best known outside of Brazil. Amongst the traditional dishes of the region is the famous national dish feijoada made of black beans, beef and pork served with white rice, vegetables and orange slices as well as Pão de queijo, cheese bread.
Cuisine from the North-East of Brazil is extremely simple and the basic ingredients are corn, beans and anything that is harvested. Moqueca de peixe and bobó de camarão are two examples of traditional dishes from this region. More specifically, in the town of Bahia, African culinary traditions are still in place with chili, spices and palm oil.
In the Western-Central region of the country, there is an abundance of fish, meat and fruit. Grilled fish with cream of coconut is one of the traditional dishes of the region.
In Northern Brazil, traditional cuisine is strongly influenced by native cuisine which mainly revolves around fish and freshly picked ingredients.
Brazilian cuisine also aims to be simple and affordable, as is clearly demonstrated by the country's national dish: Feijoada. This famous dish was originally made by slaves. They cooked the off-cuts of pork with black beans which they then served with white rice and vegetables.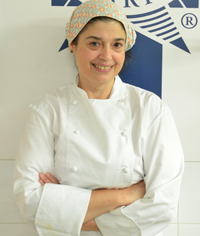 Brazilian cuisine is, therefore, simple, varied and full of flavor. Le Cordon Bleu Paris alumni, Chef Heloisa Bacellar, shared her impressions of this outstanding cuisine with us:

Can you tell us to what extent Brazilian cuisine is rooted in your country's culture?
Brazil is a very large country with outstanding biodiversity. The country has many natural resources at its disposal to which different ingredients imported, following the various migrations that happened throughout history, can be added. Brazilian cuisine perfectly embodies this cultural mix.

Has Brazilian cuisine evolved?
Just like in France, Brazilian cuisine has evolved. Contemporary Brazilian cuisine is inspired by tradition, with the addition of international ingredients, sometimes rare and tropical, and by using French cuisine techniques. This combination has led to the development of a more modern style of Brazilian cuisine.
Would you like to learn more about cuisines of the world?



Discover our entire range of Le Cordon Bleu Paris "Cuisines of the World" workshops by clicking here.
For more information