Le Cordon Bleu News, 04/26/2013
Congratulations to our current Pastry student, Valentina Pardo Navarro from Colombia.  She is the winner of the "2013 So You Think You Can Cook " Fiddlehead Culinary Competition held by Norcliff Farms.

To qualify, Valentina was required to develop and submit a recipe including fiddleheads.  Valentina developed a recipe that combined Colombian and Mediterranean flavours, and represented a ship sailing from Colombia to Spain.  The end result was "Barcacia Mediterranea", a scallop dish served on a "boat" made of fried plantain, with a balsamic/coconut reduction and of course, a fiddlehead.

As the winning college student, she will be participating in a May 3 fundraising dinner in Toronto by assisting the chefs in preparation of a 5 course meal, including her dish as an appetizer, under the leadership of Chefs Massimo Capra, John Higgins and Christopher Ennew.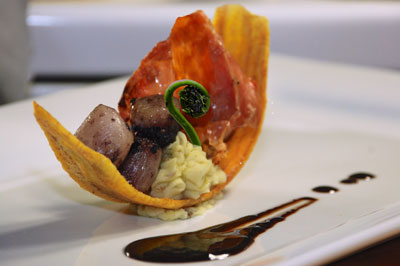 "I am very excited to cook for 100 people …it will be a good experience for me" says Valentina.

If you are in the Toronto area, tickets for this fundraiser benefitting Toronto Sick Kids Hospital are still available at:  http://bit.ly/13Ac8bq

Support a great cause and a great Le Cordon Bleu student by attending and partaking in some delicious fiddlehead dishes!