In The News
Technique: The best way to line a tart mold with pastry
Lining a tart mold correctly is an essential step in making any tart. The correct technique ensures that the tart will bake evenly and look perfect.
Here is the step by step technique presented by Le Cordon Bleu Chefs
Prepare the pastry for the tart of your choice. Roll the dough out to a thickness of 3 mm. The finished circle should be approximately 5 cm larger than the diameter of the pan. Gently roll the dough around the rolling pin, place it over the mold and unroll loosely, allowing the excess to hang over the rim.
Press the dough gently into the mold to cover the base, inside seam and side.
Roll the rolling pin over the rim of the mold, pressing down firmly to remove the excess dough. If indicated in the recipe, dock the base of the dough-lined pan with a fork and bake as described.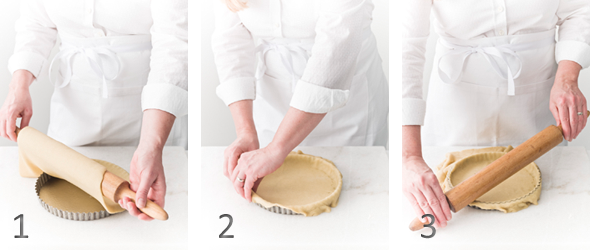 You will find this technique in the Chocolate Bible, which contains 170 illustrated chocolate-based recipes as well as indispensable basic techniques illustrated by step by step photos.
This technique has been used in the following recipes:
For more information