In The News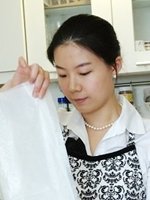 Min-Young Kim
Grand Diploma 2009, Bakery Diploma 2010
Representative of Cooking & Baking studio 'Ecole Pommier', Instructor
Min-Young Kim graduated from the Cuisine, Pastry and Bakery Diploma programs. She majored in business management and worked at an apparel company as a merchandising director. While she was working she took cooking classes at 'La Cuisine' as a hobby and ended up completing the Italian cuisine master course in three years. At that time, she thought deeply about her future and she decided to study more and work in a field that made her happy. She had heard about Le Cordon Bleu branch in Korea. She applied to Le Cordon Bleu-Sookmyung Academy without hesitation after participating in the open house.
She said that each of Le Cordon Bleu Diploma program was systematic in learning basic terms, background, ingredients and techniques used in authentic French culinary. Furthermore she is very proud of her graduation as well as solid foundation from Le Cordon Bleu.
The chef, chef's assistant and interpreter became one in training students to become professionals. She thinks that this is one of the reasons why Le Cordon Bleu is the world's renowned culinary institute.
At first, she hoped to enter a major company but changed her mind and decided to manage her own cooking classes. Presently, she is running the Atelier 'Ecole Pommier', teaching cooking and baking to students. Her ultimate aim is to open a boutique divided into three separate parts, Cuisine, Pastry and Bakery, with her name. She advises future students to maintain their passion for learning and work hard in the field they love.
Information
Le Cordon Bleu-Sookmyung Academy

cordon@sm.ac.kr


www.cordonbleu.co.kr


02) 719-6961~2