In The News
Le Cordon Bleu Paris graduation ceremonies
Le Cordon Bleu Paris graduation ceremonies took place on November 9 and 10, 2011. The graduation for the basic and intermediate cuisine and pastry levels was held at the school and ended with a buffet prepared by the chefs. The superior level ceremony took place at the prestigious private club Le Cercle de l'Union Interalliée. Mrs Harriet Welty Rochefort, journalist and writer, was the patron of the class.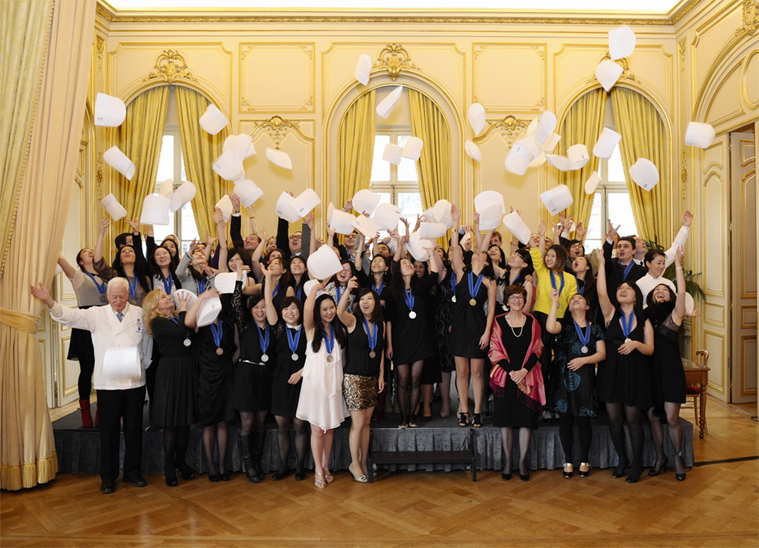 We are proud to announce the top five students from each level:
Basic Cuisine
1st: Lucy Roberts, United Kingdom
2nd: Jin Myoung Jeon, South Korea
3rd: Rodrigo Saraiva, Brazil
4th: Thomas Bassoleil, Brazil
5th: Talita Setyady, Indonesia
Basic Pastry
1st: Narges Gheissari, Switzerland
2nd: Mikaela Carruthers-Hogg, Canada
3rd: Christophe Tissier, France
4th: Camille Mansouri, France
5th: Amber Koh, United States
Intermediate Cuisine
1st: E-Lin Boh, Singapore
2nd: Ericka Fisher, United States
3rd: Crystal Ngan, Hong Kong
4th: Jessica Yoon, Canada
5th: Ghazaleh Samandari, United States
Intermediate Pastry
1st: Marie-Alexandra Bouvrain, France
2nd: Alison Oi Ming Tsang, United Kingdom
3rd: Alison Maher, United Kingdom
4th: Ericka Fisher, United States
5th: Nasha Zhao, China
Superior Cuisine
1st: Song Soubarany Lay, Cambodia (Mention Bien)
2nd: Michael Wheeler, Australia
3rd: Roman Martsinkevich, Russian Federation
4th: Juan Guillermo Ruano Lopez, Colombia
5th: Mitsuko Hasegawa, Japan
Superior Pastry
1st: Bachir Guezi, Algeria
2nd: Carrie Bradley, Canada
3rd: Fang Jin, China
4th: Amara-Lynne Yamamoto, Canada
5th: Hye Jin Oh, South Korea
See the Picture Gallery
To acquire pictures from the graduation ceremony please click here (students access codes have been given the day of the ceremony).
Congratulations to all of our students! For those of you who are not attending the next level we hope to see you in the near future and for those who continue, keep up the good work!

For more information