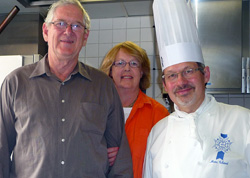 Last year in partnership with MasterChef, Le Cordon Bleu conducted an online competition giving viewers the opportunity to win the ultimate culinary experience at the world's most famous cooking school – Le Cordon Bleu Paris.
From over 15,000 entries, Terry Haining of Vermont South in Victoria was the lucky winner of a trip for two to Paris including a one day course for 2 people at Le Cordon Bleu.
Terry and his wife Cheryl have just arrived back in Australia after attending the Paris Market Tour, where they discovered the secrets of selecting quality produce and making the most of fresh, season ingredients as the Le Cordon Bleu chef guided them on a walking tour of one of Paris's 80 open-air markets. Terry and Cheryl were also treated to a buffet lunch followed by a 2 ½ hour demonstration using the products purchased at the market.
Terry said of his experience "We are overwhelmed, the whole day was fantastic. Strolling the local market and learning tips along the way. What an amazing range of cheese!!! Then our buffet lunch with so much to choose from; Rillette, tongue terrine, tripe sausage, tapenades, bread, shellfish and did I mention the CHEESE…then onto the demonstration by Chef Marc Thivet followed by more food tastings. Chef Marc of course was excellent."
The experience did not end there. The following day both Terry and Cheryl returned to Le Cordon Bleu, attending the "In honour of Julia Child" demonstration, concentrating on traditional French cuisine, which Julia Child is known to have loved.
Congratulations once again to Terry and Cheryl and we are pleased you enjoyed the ultimate culinary experience.