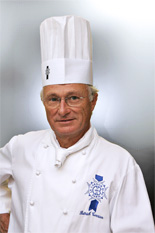 Le Cordon Bleu, the world's oldest and most famous French culinary education specialist, will be hosting an extraordinary series of food and wine events at the Shenzhen Intercontinental Hotel, with gourmet dinners and expert cooking demonstration classes between June 4 and June 10, 2011.
To show off authentic French cuisine at its highest level, Executive Chef de Cuisine Patrick Terrien of Le Cordon Bleu Paris will be in command through a busy week of culinary highlights presented at the hotel's Pipette French Restaurant.
Chef Patrick Terrien has tasted the extreme highs of success as a chef, having earned a Michelin star for his own restaurant in the city of Tours, and having cooked as sous chef under the direction of the masterly Joël Robuchon at the Nikko Hotel. His culinary talent has been underpinned by scaling the peaks of study and teaching excellence, having earned the credentials of Manifestation Internationale Gastronomique in Geneva, Diplôme du Merite Culinaire from the Prosper Montagné Club, and an honorary member of the Tsuji Academy in Osaka, Japan. He brought this wealth of experience to Le Cordon Bleu in 1989.
The Intercontinental Shenzhen's Pipette French Restaurant will be hosting two Le Cordon Bleu eight-course gourmet tasting menus with a selection of premium wines, available to diners from June 4 to June 10, between 6pm and 10.30pm.
Chef Patrick Terrien's menus will present classic French cuisine reinterpreted in a modern and innovative context, including such dishes as:
Green and white asparagus velouté
Pan-fried foie gras with Granny Smith apple, balsamic and cocoa jus
Baby lobster ravioli with frothy basil cream
Provencal-style Wagyu beef daube,polenta and oven-dried tomatoes

Yellow plum frozen parfait
To highlight the versatility of Chef Patrick Terrien's culinary repertoire, his second gourmet tasting menu available in the restaurant will include:
Warm lobster salad with citrus fruits
Duck, mushroom and foie gras Napoleon
Turbot fillet with Champagne sauce
Rack of lamb with herb crust and vegetable tian
Soft chocolate cake with raspberry center pistachio ice-cream
To pass on some of his vast knowledge of classic French cuisine, Chef Patrick Terrien will also be conducting two separate cooking demonstrations and tasting classes, each focusing on different menus. On Sunday June 5 at 2pm, he will cook:
Beef tournedos with foie gras and truffles, paired with apple and celery root parcels
Fruit tartare with peppermint and campari sorbet
On Tuesday June 7 at 2pm, Chef Patrick Terrien will demonstrate how to cook:
Quail and celery salad flavoured with herbs
Steamed stuffed salmon rolls with vegetable ragout
Celebrating culinary excellence is a hallmark of Le Cordon Bleu, one of the world's leading schools for teaching classical French cuisine, pâtisserie and boulangerie. Since Le Cordon Bleu was established in Paris, France in 1895, the organisation has earned fame and respect for maintaining the highest standards of culinary excellence. Each year, more than 22,000 students from 70 countries are trained at Le Cordon Bleu's Institutes, which now stretch through 40 schools in 20 countries, in cities from Paris, London, Tokyo, Ottawa, Seoul and Sydney to Bangkok and Mexico City.
Monsieur Andre Cointreau, President of Le Cordon Bleu International, has encouraged the development of great diversity within Le Cordon Bleu's culinary education programs, reaching beyond prestigious culinary arts certificates to also include the Advanced Diploma of Culinary Management, Bachelor degrees in Hotel Management, Restaurant Management, a MBA in International Hotel & Restaurant Management, and a Master of International Hospitality Management.
Contact:
Mr Sean Lin - Marketing Manager
Tel: 13817672872