Le Cordon Bleu News, 05/18/2011
On May 16 2011 Le Cordon Bleu had the honor of participating in the inauguration of a photo exhibition celebrating the 100th anniversary of the discovery of Machu Picchu. This archeological site is considered as a UNESCO World cultural heritage site.
The event took place at the UNESCO headquarters in Paris with the presence of Irina Bokova, Director-General of UNESCO and the Ambassador of Peru to UNESCO, Cecilia Bakula. The Ambassador of Peru in France Mr. Jose Antonio Arróspide was also present.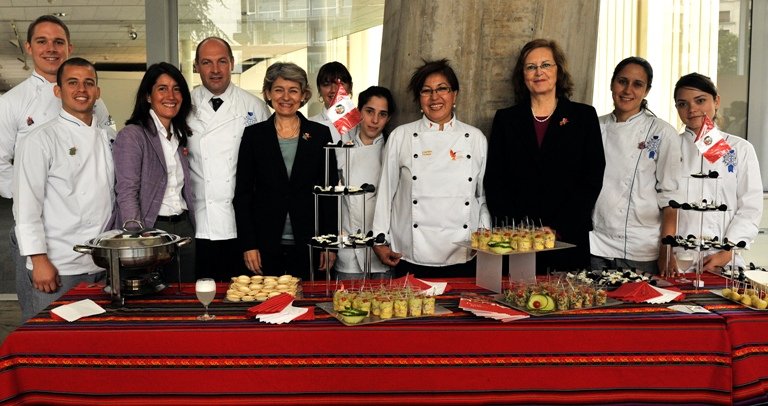 Photo: Irina Bokova, Director-General Unesco, Chef Lourdes Pluvinage, Cecilia Bakula, Ambassador of Peru to UNESCO, Sandra Messier, Chef Franck Poupard and Le Cordon Bleu students.
Franck Poupard, Chef instructor at Le Cordon Bleu and a group of students participated in the organization of the cocktail buffet prepared by Lourdes Pluvinage, Chef at Peruvian restaurant El Picaflor in Paris.
Le Cordon Bleu thanks Le Cordon Bleu students Karin Faingold, Sapir Weissman, Camila Arango, Kyungjung, Victoria D'Asto, Luis Machado, Zachary Kousnetz for their participation.