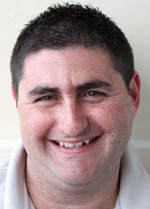 Mark Camilleri – Graduate of the Le Cordon Bleu Masters of Gastronomy.
Now living in Malta Mark Camilleri together with 3 partners have established a catering and foodservice company – Fifth Flavour.
The name fifth flavour (or Umami) is a relatively new concept in the world of food. It refers to a new dimension of taste beyond the usual definitions of salty, sweet, sour and bitter. The Umami taste sensation of certain ingredients mixed together, surpasses the taste of each one alone. Its fundamental effect is the ability to balance taste and round the total flavour of a dish, thus enhancing the palatability of a wide variety of foods.
Similarly, Fifth Flavour as a company aims to add a new dimension to the catering industry by bringing together the talent and expertise of the four founding members: Mark Camilleri, Alex Mattei, Nick Camilleri-Preziosi and Sebastian de Giorgio.
Whilst all members are established in their own right, the new venture aims to provide a more complete catering service, allowing Fifth Flavour to improve the quality, variety and service previously offered in the industry.
Fifth Flavour will offer additional services to outside catering and bespoke retail and restaurant supply. They will include:
Restaurant Menu development
Training and consultancy
Food styling for film and photography
Product promotion and endorsement
Cooking classes for groups
Congratulations to Mark Camilleri and we wish him all the success with his new venture.