Le Cordon Bleu News, 04/27/2011
Le Cordon Bleu took part in this spectacular display of artistic skill, telling the history of royal weddings through the medium of cake, commissioned by Tate & Lyle Fair-trade icing sugar.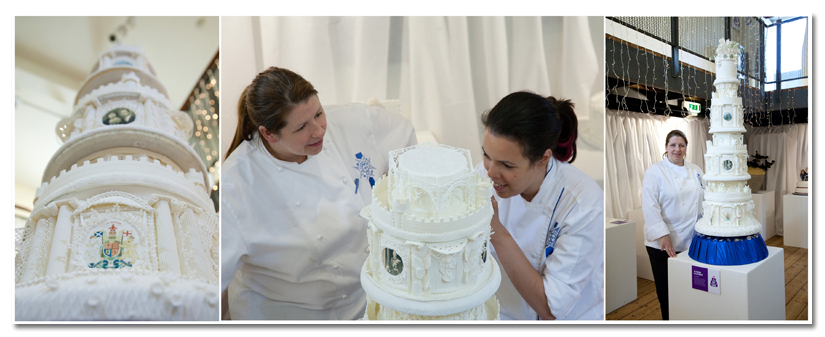 Alongside creations from other leading pastry chefs, Le Cordon Bleu's Chef Julie Walsh exhibited her contribution to the event; a 4-tier masterpiece in icing sugar, based on the wedding cake of Lady Elizabeth Bowes-Lyon and Prince Albert (King George VI and Queen Elizabeth) with reflections on their life together incorporated into the design. Standing at an impressive 6 feet high, Chef Julie's intricate design formed the centrepiece of the exhibition, skilfully assembled with the assistance of Le Cordon Bleu students and co-chefs.

The exhibition, curated by wedding cake experts Chef Simon Smith and Professor Roland Rotherham, attracted nearly 4000 visitors. Other pieces on display included Buckingham Palace, Four and Twenty Blackbirds and a Portrait of Prince William and Kate Middleton.

With over 20 years experience in the industry, Chef Julie has decorated cakes for celebrities and members of the British Aristocracy, including preparing the cake for the Queen Mother's 100th Birthday. She has entered numerous competitions at both a national and international level, winning over 40 gold and silver medals for her work. Recently she created the Sugar Showpiece for Philip Treacy for the event, 'Eat the Designer' which was held in conjunction with AnOther Magazine's 10th year anniversary and London Fashion Week 2011.

ABOUT LE CORDON BLEU: Le Cordon Bleu teaches an accredited Pâtisserie Diploma that includes learning the skill of cake decorating in its programme. Le Cordon Bleu Diplomas in Cuisine and Pâtisserie are recognised worldwide by industry professionals. Together, they make up Le Grand Diplôme Le Cordon Bleu®.

For more information:
Le Cordon Bleu, 114 Marylebone Lane, London W1U 2HH  +44 (0) 207 935 3503