On April 1st, Le Cordon Bleu was the place for the "rendez vous" of the Basque delegation made up of the President of Slow Food Spain, Mariano Gomez and 7 Chefs, all members of Slow Food.
The objective of this visit (organized by the French Institute of Bilbao and the Bilbao City Hall in collaboration with Le Cordon Bleu, and with the support of the Cervantes Institute) was to learn as much as possible about French regional gastronomy. The aim was also to share the Slow Food philosophy and knowledge with other prestigious professionals.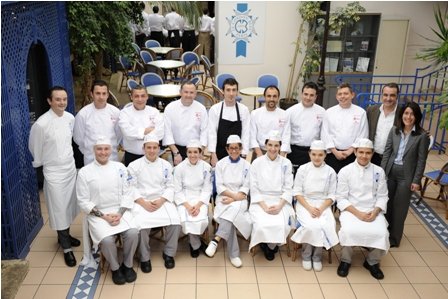 Each Basque Chef presented a dish based on products discovered in France and on their own specialties. The Chefs who participated and their dishes were:
1. Eneko Atxa. Restaurante Azurmendi, 2 Michelin starred restaurant
Ostra Guillardeau, migas de centeno de Poujauran, Ibérico y un matiz picante 
Guillardeau oysters, fresh Poujauran rye bread crumbs, Iberico cured ham with a touch of chili
2. Alvaro Garrido. Restaurante Mina
Mejillones con citricos y algas
Mussels with citrus fruit and seaweed
3. Mikel Poblacion. Restaurente Etxanobe. Palacio Euskalduna. 1 Michelin starred restaurant
Alcachofas soasadas con yema de azafrán y patata violeta
Artichauts légèrement grillés au jaune d'œuf et au safran, pommes de terre vitelotte
Lightly grilled artichokes with egg yolk and saffron, purple potatoes

4. Txemi Olazabalaga. Restaurante Aizian. Hotel Mélia
Sopa de txipirones
Soup of tiny squid (calamari)
5. Guillemo Fernandez. Restaurante Baita Gaminiz
Vieiras asadas, emulsion de coliflor y erizos con almendras
Coquilles St.- Jacques grillées avec une émulsion de chou-fleur et d'oursins aux amandes
Grilled scallops with a cauliflower emulsion and sea urchin with almonds
6. David Garcia. Restaurante Tamesis
Vainas con cigalas
Haricots coco plats aux langoustines
Flat runner beans with langoustines
7. Ricardo Perez. Restaurante Yandiola. Centro cultural Alhondiga Bilbao
Zurrukutuna
Garlic and salt cod soup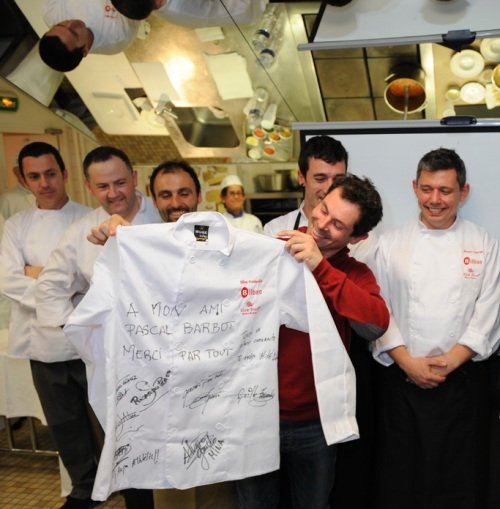 Pascal Barbot, Chef owner of the 3 starred Michelin restaurant "Astrance", led the organization of the group and was also present at Le Cordon Bleu.
During the presentation each Chef was assisted by a Le Cordon Bleu student, " …it was a very nice experience for the students and me.  We looked for students coming from Spanish speaking countries to facilitate the preparation and presentation of the dishes…" said Philippe Clergue, Chef instructor at Le Cordon Bleu Paris.  Chef Clergue was responsible for coordinating the presentation at the school "…the students were delighted and we realized that in a half day there was a real synergy and friendship building up between the Chefs and the students.  We certainly want to keep the relationship with these fabulous Chefs and continue to develop future co- with the major players of this event such as Slow Food, the local government identities and culinary professionals. Our main objective is to create an international culinary and cultural exchange between students and guest Chefs".
Le Cordon Bleu thanks students and graduates Laura Quintanilla (Spain), Monica Martinez (Spain), Eduardo Alejandro Padilla (Mexico), Cristian L'Huillier (Chile), Camila Arango (Colombia), Luis Machado (Colombia), and Sofia Rovirosa (New Mexico, USA) for their collaboration and motivation.