Le Cordon Bleu News, 03/29/2011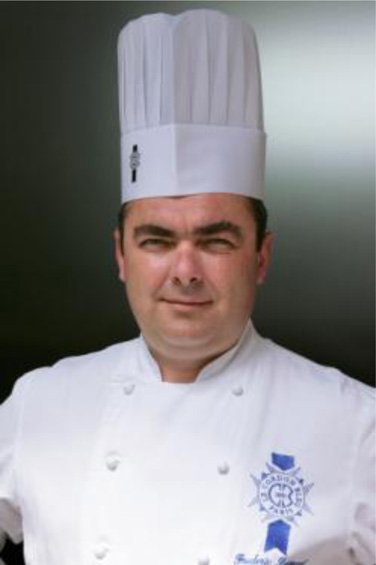 Taiwan, April 2011 - Le Cordon Bleu, the ultimate school for culinary arts, will be in Taiwan courtesy of the famous the Lalu hotel on the Sun Moon Lake's Peninsula. The 'Le Cordon Bleu Festival' will be held from April 1st – 5th 2011.

Frédéric Lesourd, chef instructor from Le Cordon Bleu Paris has been invited as the Master Chef to show case French cuisine at the Lalu Hotel. Under the direction of Chef Frédéric Lesourd, "Le Cordon Bleu Festival" will feature the finest in classic French cuisine reinterpreted in a modern and innovative context. Guests will have the opportunity to taste world class French dishes without leaving the country. A lucky draw for fabulous prizes will be available for those who order "Le Cordon Bleu" set menu.
During this one-week festival, Chef Lesourd will also provide three signature dishes for the Charity Luncheon on April 1st in the Lalu Garden. Groups of underprivileged children and single-parent families are invited. All profits from the lunch and the auction organized during this event will be donated to the Nantou County Department of Social Affairs.
Chef Lesourd aims to offer guests an exclusive gastronomic experience that will tantalize their taste buds through superb dishes.

Chef Frédéric Lesourd has worked in many famous Michelin-starred restaurants and hotels in Paris, such as "Le Maxim's", Le Prince de Galles restaurant "Le Jardin des Cygnes", the Westminster's "le Céladon", the Ritz hotel's "L'Espadon" and the hotel Scribe's "Les Muses". Chef Lesourd was chef de cuisine for the Ministry of Interior and part of Elysée Palace (The Presidency of the French Republic) kitchen team.

Le Cordon Bleu, the world's leading school for teaching classical French cuisine, pâtisserie and boulangerie, was established in Paris, France in 1895. Over the last century, Le Cordon Bleu has developed a reputation for maintaining the highest standards of culinary excellence. Every year, 23,000 students from more than 70 countries are trained. Le Cordon Bleu operates 40 schools in 20 countries, and in such prestigious locations as Paris, London, Madrid, Tokyo, Ottawa, Seoul, Sydney, Bangkok or Mexico City.

Le Cordon Bleu International, under the chairmanship of Andre Cointreau, has developed many different programs:  Advanced Diploma of Culinary Management, Wine and Management Program, Bachelor degrees in Hotel Management, Restaurant Management, a MBA in International Hotel & Restaurant Management, a Master of International Hospitality Management and other specialized programs in collaboration with international universities.
BON APPETIT
Contacts: Ms Sara Shang – North Asia Regional Manager – Le Cordon Bleu
Tel: HP +886 955498131 or email Sara Shang