Renowned Le Cordon Bleu Ottawa's Chef Instructor Hervé Chabert will be a judge at the Festival of Chocolate Event at the Lago Bar and Grill in Ottawa.
This event is to support and raise funds for the Distress Center of Ottawa and Region. At this event, professional local chefs will present a dish using an inspirational element - chocolate. Each chef will be critiqued by a panel of guest judges, including Chef Hervé, and determine the winning dish for this evening.
Members of the Ottawa Firefighter's Association will be on hand to serve up each decadent creation. There will also be silent auction items up for bid.
See below for a taste of what you can expect.
Event Details:

February 10th, 2011
7pm - 11:00pm
Tickets are $50.00 and must be purchased in advance from the Distress Center Ottawa at (613) 238-1089 x 222.

Chef Hervé Chabert's Biography: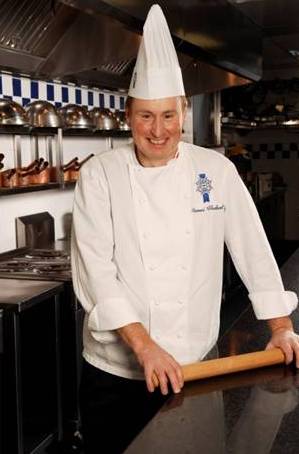 Chef Hervé Chabert is originally from the region of Lyon,  an influential gastronomic region of France. In 1982 he earned his Professional Aptitude Certificate in pâtisserie and finalized his formal training by participating in several stages through l'École Lenotre.
Until 1992 Chef Chabert worked in various reputable establishments in Rhône-Alpes, working his way up through the brigade positions and into positions as Chef Pâtissier. In 1991 he obtained a Brevet de Maîtrise teaching certificate which allowed him to join the team as a pâtisserie instructor at l'École des Arts Culinaires et de l'Hôtellerie.
During the 7 years he spent at this school, he had the opportunity to work alongside Alain Berne, Meilleur Ouvrier de France Glacier. Chef Chabert's area of specialization during his time at l'École des Arts Culinaires et de l'Hôtellerie was plated desserts.
In 1999 Chef Chabert was hired as Chef Pâtissier at one of Lyon's grand pastry shops: Pâtisserie Lafay. Throughout the years Chef Chabert has participated in numerous pâtisserie competitions in France and was chosen for the Coupe du monde de pâtisserie in 1997 and in 1999.
Chef Hervé Chabert joined LE CORDON BLEU Ottawa Culinary Arts Institute in September 2001 as a Chef Instructor in Pâtisserie.