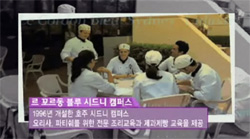 The top six winners of the 4th Young Chef Pencil Box Culinary Challenge (PBCC), hosted by MLA Korea, participated in a tour of the Australian food and beverage industry from 25th August to 1st September. Food TV accompanied the students throughout the Australia tour and highlight how MLA provides the young chefs with an opportunity to see and learn advanced agriculture and culinary culture, while simultaneously enhancing their knowledge and skills in cooking.
Cooking Off was aired via one of popular cable channels, Food TV. During the 30 minute program the winners visited various places such as a hotel restaurant kitchen, top restaurants in Melbourne and Sydney, and Le Cordon Bleu Sydney campus.
Students visited Le Cordon Bleu campus for a full day on 30th of August. They were treated to a campus tour where they met chefs and promising students, attended a demo class and practical kitchen class, and enjoyed a 3 course lunch prepared by current Superior Cuisine students.
Food TV extensively featured what the students saw and learned throughout the tour program. It is highly expected that Food TV will show how the tour helped the students pursue their dreams of becoming top chefs.
» Watch Cook Off video (Korean)