Le Cordon Bleu News, 12/19/2010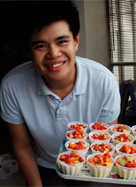 Indonesian born Adithya Pratama, a Diplôme de Pâtisserie graduate of Le Cordon Bleu is now a pastry chef and freelance food and travel writer based in Singapore.
Motivated by his studies Adithya writes entertaining and informative columns for on-line magazines. Most recently he published an article on Makan-Makan. The article, on www.heydispora.com, is a brief tour de force as well as a Tour de l'île of Bali and its culinary scene. Proclaiming Bali a "heaven for foodies," he revels in the island's endless variety of food choices ranging from "Japanese sushi to sumptuous Greek" and the wonderful local choices as well.
» Join Chef Adithya Pratama on his entertaining exploration of Bali eateries
» Read testimonial by Adithya Pratama