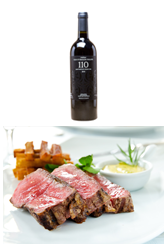 Recipe : Sirloin Steak, Pont-Neuf French Fries, Béarnaise Sauce
There is no appellation in France that is more respected and admired than Saint-Emilion, the first vineyard to be nominated as a UNESCO world heritage site in 1999. The medieval village and hilly vineyard are a beauty to behold and envied by all. Here, classicism and longstanding traditions go hand-in-hand with modernism and excellence. Located on a clay-sandy soil this property, in the Libourne area, has parcels of over 100 year old Merlot producing a specific cuvée every year (vat 108, 109, 110) named according to the age of the vines. This wine has a deep, dense ebony color with flashes of the luminosity found in the very best vintages. The nose is enchanting and refined with notes of blackcurrant and wild blackberry which express themselves with moreish intensity. A complimentary minty freshness is brought to the fore by the mocha and cedar notes. The quality of the oak aging, thanks to close collaboration with renowned coopers, brings subtlety and a touch of class, without taking anything away from the finesse of this Grand Cru.
Voluptuous and silky on the palate, the alcohol content is controlled by an omnipresent freshness which is supported by a very light and delicate touch of tannin. The oak is perfectly integrated in the wine giving it structure and complexity. The finish is long and classy with notes of very ripe black burlat cherries, tobacco, sweet vanilla and bramble. This wine has appeal because the fruit has been impeccably handled and the oak aging so well managed. I think therefore that it should accompany a beautifully simple dish, a pairing full of flavor and taste where the products exist in harmony. The texture of a thick-cut rare sirloin steak will be the perfect match for the strength of the tannins and the breed of this quality terroir.