Institute of Advanced Studies in Taste, Gastronomy and the Arts de la Table
A unique, multidisciplinary course program that encompasses the many facets of the world of gastronomy
Next Session - from October 14 to 26, 2013


A two-week original and intensive course
Existing schools may teach technologies related to food, physiology and nutrition, the history of taste or cooking, but no school has ever adopted our multidisciplinary approach to taste and gastronomy.
The Hautes Etudes du Goût have opted for a three-pronged historic, scientific and economic approach to foods and beverages, the environment in which they emerge, their production, culinary transformations, presentation and tasting in order to make their cultural value known and appreciated, while acquiring a 360° vision of the complex world of gastronomy today.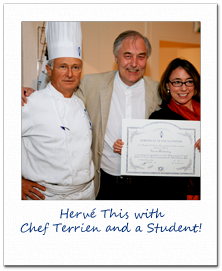 The Hautes Etudes du Goût's commitment is to provide students with the cultural and scientific tools needed to enhance their professional skills and enrich their personal lives.
Proactive and innovative courses are taught (in French with English translation) by top-notch University professors as well as leading national and international experts. Theme-based meals are also organised.
The program takes place one week in Paris (Le Cordon Bleu) and one week in Reims (University of Reims Champagne-Ardenne, 45mns away from Paris by high-speed train).
Who is our Program intended for ?
The cultural diversity and mixed professional backgrounds of candidates make the Hautes Etudes du Goût a unique learning experience.

The program is primarily designed for:
Professionals with experience in all activities related to gastronomy and fine living:

Chefs
Sommeliers
Managers and Executives from hotels and restaurants.
Wholesales, Distributors, Wine Merchants
Training consultants, PR, Marketing
Journalists and writers

Operators with cultural activities

Post-graduate students who want to develop their career in the universe of Taste and Gastronomy.
Wine and food lovers and persons who wish to acquire a new culture.
A glimpse at our course program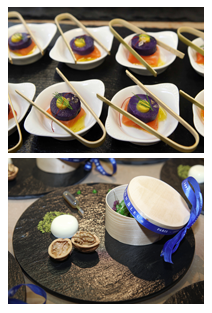 Analysis of the evolution of food consumption (Pierre Combris, INRA)
Molecular gastronomy (Hervé This)
Magical thinking in wine (Fréderic Brochet)
An example of a real terroir effect: cheese (Jean-Baptiste Coulon, INRA)
Evolutions and new trends in the arts of the table sector (Confédération des Arts de la Table)
Sociology of food
The child's psychology of taste: how are our food preferences determined? (Natalie Rigal, Paris-X Nanterre)
Sensorial communication (Caroline Dusautoir, Reims Management School)
Economics of gastronomy (Christian Barrère, University of Reims)
Neurophysiology of taste: cognitive aspects of sensoriality (Patrick MacLeod)
Medieval gastronomy (Bruno Laurioux)
Culinary conference with Le Cordon Bleu Chefs
Diploma
The Diplôme Universitaire du Goût, de la Gastronomie et des Arts de la Table (DUGGAT) will be issued by the University of Reims Champagne-Ardenne to students who will have obtained the required level after the final exams (written exam at the end of the course + thesis).
For students within the European Union, 60 ECTS (European Credit Transfer System) credits are associated with the D.U.G.G.A.T. 60 ECTS credits are attached to the workload of a full-time year (academic year) of formal learning.
Students will also receive a Certificate of Attendance from Le Cordon Bleu Paris.
Price & Application procedure
Price
6 000€ including fees, translation, hotel accommodation, meals and transportation Paris-Reims-Paris
Scholarship
Le Cordon Bleu will award € 3,000 Scholarship for the 2013 Hautes Etudes du Goût program.
To learn more about eligibility, please click here
Closing date for submission: April 30, 2013
Winner announcement: May 31, 2013
Application procedure
Possession of a graduate university diploma or professional experience in the area of food and gastronomy

Candidates are selected with regards to their application form (detailed resume, experience, motivation, professional project).
The admissions committee of the Hautes Etudes du Goût will review your request and contact you shortly.
Download the brochure (download the Continuing Education brochure)


Students testimonials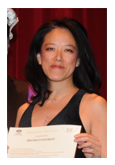 Rosemary Chang (USA/France) - 2009 student
Clinical research consultant -Graduate from Le Cordon Bleu-Paris
« HEG is intense and dense! The various topics will capture your attention and imagination, and will challenge you everyday.
This is not a casual program, but geared toward serious students who have a passion for the vast spectrum of the gastronomic world - from publishing to wine to physics to neurobiology to chocolate to economics, and more. Be prepared to be blown away by some of the leading experts in their fields. The meals in Reims were a highlight, and best of all, you will make friends to last a lifetime. »
Penny Shack (United States) - 2007 student
Graduate from Le Cordon Bleu-Paris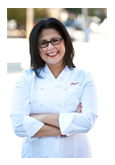 « I initially applied to this course thinking I would learn more about food. I had no thoughts of meeting people, learning about wine or learning about the history, background or why people have certain eating habits. I just wanted any knowledge about food that I could get!
I was pleasantly surprised when I took this course! Not only did I meet a GREAT group of people, some of which I still keep incontact with today, but I learned a plethora of information that is with me for life! I feel smarter to know why we eat how we do, and the history behind that. The course is so perfectly designed to further advance anyone's career, not only those in the food industry! I feel like a smarter chef because I can give the why, where and how behind my cooking now. It's just brilliant!
I never in my life expected to write a thesis and although I am not finished yet, the process has been wonderful. I have learned more about myself from a tiny topic, than I have over the years I have been alive. I owe this course my health.
I feel smarter and most of all, I've come to an acceptance of myself that I don't think was possible without this course. I would give anything to do it again, however, I don't think an experience like that could be duplicated. »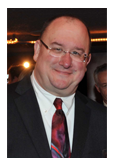 Christian Wise, (USA) - 2011 Student
General Manager and Executive Chef responsible for the complete food operations at the University of Wisconsin-Eau Claire, USA.
"Currently, I am the General Manager and Executive Chef responsible for the complete food operations at the University of Wisconsin-Eau Claire, USA. My team of 400 prepares approximately 10,000 meals per day for 32 weeks a year. I love food and understanding how food relates to humanity on every level is highly interesting to me. Upon first sight, HEG, of all the programs I reviewed, offered the widest variety of coursework and the highest caliber of faculty. I work, full-time, and I needed and intense, condensed program. HEG is an intense, condensed program, but, in addition, after completing the coursework, I can also say that it was one of the most thorough programs and exceeded my expectations beyond any preconceived notion. Quite honestly, my participation has helped mold me into a different and positive mind set, thus affecting my life in a great way. For anyone that loves food, has an interest in humanity and wants an opportunity to learn a significant amount in a positive environment, I can not say enough laudatory things about this program, except for, "you need to apply and do it."

In addition to the wonderful content, the program was extremely well organized between two institutions and two cities, a feat that, in and of itself, was impressively executed."
Karen Wadowicz (Fort Lauderdale, USA) - 2008 student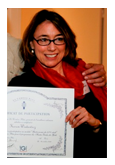 Graduate Le Cordon Bleu Paris - President of a food marketing and recipe development company
« I loved the HEG program. It turned out to be more than I expected. In so many ways the course lecture content was relevant to current and future professional and personal projects. Some lectures opened up new areas of interest. The additional knowledge I gained from taking this course allows me to offer more specialized expertise to my clients. Meeting students from many different cultures was a huge plus and added to the experience - I look forward to staying in touch with everyone.»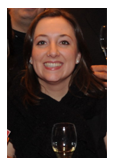 Luciana MASTROROSA (Sao Paulo, Brazil) - 2010 student
Journalist specialized in food & wine content for websites, newspapers and magazines
« Because of the HEG program, I happened to meet some wonderful people from France (a country that I love and respect), Brazil and from all over the world....As a brazilian food journalist and writer, I can say that all the experiences we had at the HEG program contributed a lot to my job here in Brazil, of course, but the experience goes far away from that. I not just only met great people, great teachers and great food and drinking: I could taste the very flavour of gastronomy. And of true friendship.»
Le Cordon Bleu Paris -
Contact
8, rue Léon Delhomme -
Map
75015, Paris, FRANCE
Tel: +33 (0)1 53 68 22 50