In addition to our programs ranging from culinary training to post-secondary degree programs in hotel, restaurant, and tourism management, Le Cordon Bleu proposes the a range of short term culinary discoveries for those with a passion for the art of cooking.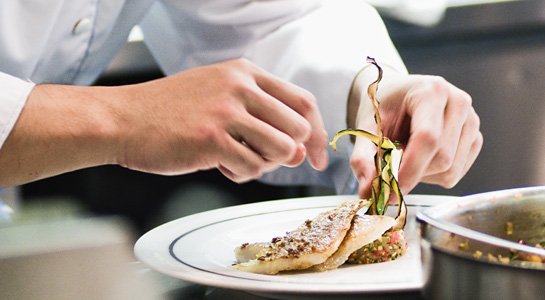 How to choose your course?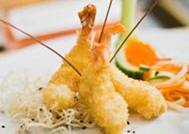 The following information describes of the short culinary courses offered at Le Cordon Bleu Paris. Courses can be scheduled as demonstrations (visual) or workshops (hands-on). The themes, recipes, timetables, and duration will vary depending on the class selected. Read the following descriptions and then consult the calendar.
Then it's easy, fill out the registration form or
Book Online.
Please note that availability is limited.
Cooking for Friends
The day begins with a 2½ hour culinary demonstration followed by a tasting.
You will then prepare one of the dishes demonstrated under the supervision of a chef. You will be able to return home and dazzle your friends with your culinary wizardry!
Uniform included*.
In Honor of Julia Child
One of our most prestigious alumni is honored. Julia Child has recently come back into the spotlight with the release of the Julie & Julia movie, starring Meryl Streep. This film is based on the book by Julie Powell whose life intertwined with this American culinary legend when she wrote a blog about cooking Child's recipes. Various slots have been allocated throughout our calendar concentrating on traditional French cuisine, which Julia Child, is known to have loved. Uniform included (for all-day sessions)*.
Discovery Workshops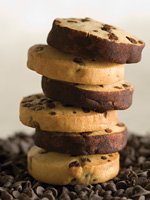 A wide variety of themed practical courses are available, these are listed in (blue) in the calendar. Subjects' range from seasonal cuisine & patisserie, to the secrets of specific ingredients – macaroons, dishes in shot glasses, and petit fours are some of the options.

New courses have been created for parents and children so together they can share their love for food! Children are welcome from 8 years old.

These workshops take place in the practical classrooms giving you as much exposure as possible to the working environment of a professional kitchen. This hands-on experience gives gourmet enthusiasts the opportunity to innovate. All necessary ingredients and equipment are provided, and you are free to take home your day's work. Uniform included*.

Traditional Breadbaking
Rival traditional French bakeries as you learn the secret techniques of making bread and pastries during this specialized course. Your chef instructor will teach you the uses of fresh yeast, the different types and qualities of flour, and how to master the various stages of bread baking. You will prepare flavored breads, croissants as well as other traditional loaves. Uniform included*. This course is proposed in two, three and, four day workshops.
French Regional Cuisine
In 2 days, discover the origins and essence of French cooking through regional cuisine courses. Hands-on practical classes, enabling you to master these regional techniques, follow a series of demonstrations. Le Cordon Bleu chefs illustrate how the subtle blend of flavors distinguish several regions of France such as Provence, Normandy, Alsace, Basque Country, Burgundy, and more. Uniform included*.

A 3 hour workshop, introducing this cuisine is also offered.

Mediterranean Flavors
In 4 days, culinary demonstrations will be followed by practical classes for a discovery of the influential flavors of Mediterranean cuisine. Uniform included*.

If you do not have the time to take the entire program, this course is also proposed as a one day workshop. Please refer to the calendar for the dates.
Classical & Modern Sauces
One of our bestsellers! In 2 full days of hands-on classes you will discover the basic techniques to make classical and modern sauces, the finishing touch of your dishes. This course is also proposed as a one day workshop. Uniform included*.
Follow the demonstration ONLY
You can also reserve and participate only to the demonstration of following courses:
Cooking for Friends, In Honor of Julia Child, French Regional Cuisine, and Mediterranean Flavors.
One demonstration: 45 €
Four demonstrations: 160 €
Customized Programs for Private Groups
Most of the programs listed in our calendar are available for private groups and can be tailor-made (minimum of 15 people for demonstrations and 10 for hands-on classes).
See the 2013 Calendar
* Uniform includes a Le Cordon Bleu apron and tea towel.
For more information, please contact us - paris@cordonbleu.edu
GIFT CERTIFICATES
Looking for an original gift idea for a special occasion? Le Cordon Bleu gift certificates are redeemable for any culinary discovery program, signature product, or book. For more information please contact us at: paris@cordonbleu.edu
LA BOUTIQUE - OUR SIGNATURE PRODUCTS
Le Cordon Bleu embodies the perfect marriage between "savoir-faire" (expertise) and "art de la table" (the art of entertaining). Consequently Le Cordon Bleu chefs have selected an array of refined food products and professional equipment, which are all available in the school's boutique or online.

Jams, mustards, spices, oils & vinegars, cookies, and teas, are all available in elegant packaging. Traditionally manufactured, these products will delight gourmet 'connoisseurs' and they can also be used to prepare many of our recipes.

Our range of professional equipment is perfect for those who love to cook: professional forged knives created in conjunction with Wüsthof®, kitchen utensils, home accessories, linens, as well as table settings are all available in the school's boutique or online
cordonbleu-boutique.com

TEMPTING PUBLICATIONS
Le Cordon Bleu supports continuous learning with its large collection of international culinary publications for amateurs and professionals. Le Cordon Bleu Home Collection, Wine Essentials, The Cook's Bible and many more are also available at the school's boutique or online
cordonbleu-boutique.com