In The News
Technique - making meringue
Meringue, a classic recipe in french pastry, is made with stiffly beaten egg whites and sugar.
There are three types of meringue: french meringue, italian meringue and swiss meringue, and all three have different uses: petits-fours, parfaits, iced soufflés, dacquoises, tart or cake toppings or simply for dessert decoration.
French meringue is the most classic and the simplest to use. It is made by whisking a quantity of egg whites to which you add almost double the amount of sugar. Traditionally, two types of sugar in more or less equal quantities are added: sugar and powdered sugar.
Italian meringue, commonly used by pastry chefs, is made by pouring boiled sugar over beaten or foamy egg whites. It is generally used to make creams lighter, to cover cakes and to decorate tarts and cakes.
Swiss meringue is made by whisking egg whites and twice the amount of sugar over a water bath.



How to make french meringue (makes about 300 g of meringue)
1. In a bowl, whisk 4 egg whites until stiff.
2. Add 100 g of sugar little by little, whisking continuously, then add 100 g of powdered sugar.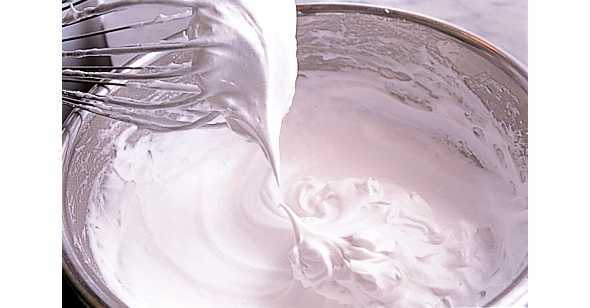 For more information