In The News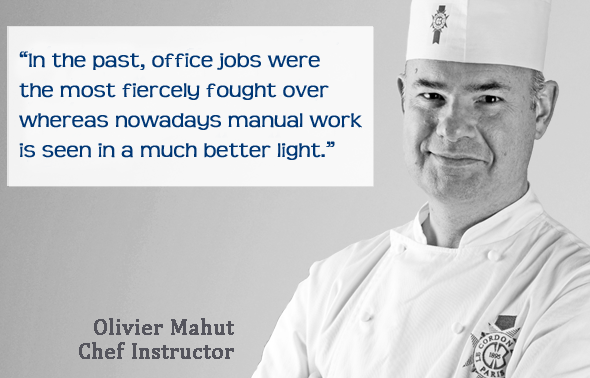 Interview with Chef Olivier Mahut
Chef Mahut joined Le Cordon Bleu Paris team of Chef Instructors in 2013. We met him...
1. Where did your passion for pastry, and your desire to make a career out of it, come from?
I have my mother to thank for my love of pastry; the delicious meals she made when I was a child, which were full of different flavors and textures, were definitely a catalyst. I spent a lot of time in the kitchen watching her cooking and trying to pinch a piece of uncooked tart dough. I was told off on numerous occasions which I actually found very amusing. Many years later, I started studying cuisine at a hotel school but soon discovered that my true interest lay in pastry.
2. Is there a Chef who inspired you during your career?
Many Chefs, not just one! Each Chef taught me something important, be it a technique, a management style or a personal quality. Each Chef helped me to become the person I am today.
3. You have traveled during your career, in particular to the United States. Can you tell us how beneficial this was to you?
When I went to the United States at the age of 19, I was fairly open-minded and had a certain amount of "freedom" in terms of what I could do. This vast country, which is so culturally different to France, taught me all about being open. Open to myself, by getting to know myself better and by stretching myself further than I thought possible, but also more open to others, by getting to know them better and by respecting individual differences. The United States also opened up numerous opportunities for me, nothing seemed impossible, such as starting a business in my case!
4. Is there one recipe in particular that you are proud of?
I'm not sure that "proud" is the right word, I think I would say that the recipe reflected my personality. I believe that the most important thing is to play with flavors and textures without worrying too much about the end result or about what other people think.
5. What are the main qualities needed in order to become a good Chef?
If you understand the word 'Love', you are on the right track! By that I mean "giving something created by you" without wanting anything in return. 'Love' also involves "doing what needs to be done" (cakes, tasks that must be done on a daily basis in this profession…) with a light heart. It is important to understand that it isn't the end result that brings happiness but the actions you have gone through and emotions you have felt.
6. What advice would you give to someone who is thinking of becoming a Chef?
I would suggest that they learn to be themselves, to gain self-knowledge and to act freely. I would also recommend not listening too much to other people's opinions but instead to trust your own instincts which are a much better guide.
7. What do you think of the recent wave of interest in pastry (TV shows, competitions…)?
I am very grateful to them for making this art form more popular. They have enabled television viewers to learn all about and respect this profession and those who work in it, and as such, to see pastry as an art form. In the past, office jobs were the most fiercely fought over whereas nowadays manual work is seen in a much better light. This has had the effect of encouraging people, who are already adults, to change career.
8. How do you see the future of this profession?
The future is difficult to predict. In the short term, the craze for this profession will probably continue to increase in Europe. However, this wave of enthusiasm could peak and reach saturation point when too many youngsters are qualified. On the other hand, taking pleasure in eating is part of our own and many other cultures. The art of eating and getting a great deal of pleasure from a good meal will not be leaving us anytime soon! I also feel that developing countries will be ever keener to learn French and European culinary know-how. It could take 10, 20, or even 50 years to reach the same level as Europe, something I already witnessed in the United States. French and European culinary art developed in the 1960s thanks to a number of ambassadors, including Paul Bocuse. This craze is being capitalized upon by the media. But how long will it last? It is possible that the craze will not continue amongst those who follow these culinary television shows, because of over-exposure. Competitions, on the other hand, are a way for a professional to improve their culinary techniques by, for example, finding new ways to look at a product. However, they can lead to disappointment when it is a question of competitiveness. To conclude, in a country which is constantly looking for something "different", innovation could be the key to making the enthusiasm for the culinary arts last.
Thank you , Chef, for giving us this interview.
For more information