In The News
The best way to temper chocolate
Tempering chocolate is an essential technique in pastry. It will ensure a glossy and crisp finish. Chefs use the technique to make molds or chocolate shavings, to coat chocolates and to make sculptures.
Adjust the amount of dark chocolate used depending on your choice of recipe.
Coarsely chop 300 g dark (preferably couverture) chocolate. Place 2/3 of the chocolate in a bowl; melt over a bain-marie of gently simmering water. The bottom of the bowl should not touch the water; shine and smoothness may be lost.
Heat until the temperature reaches 45°C on a cooking thermometer. Remove the bowl from the heat and stir in the remaining chocolate; stir with a spatula from time to time.
As soon as the temperature cools to 27°C, return the bowl to the bain-marie and reheat, stirring gently until the chocolate reaches 32°C. When the chocolate is smooth and shiny, it is ready to be used.
If you are tempering milk chocolate, melt to x 45°C, cool to 26°C, and reheat to 29°C. If you are tempering white chocolate, melt to 40°C, cool to 25°C and reheat to 28°C.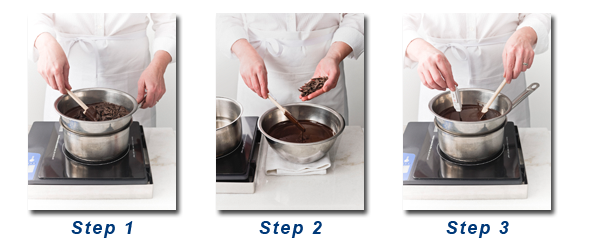 Find this and other techniques illustrated in the Le Cordon Bleu Chocolate Bible.
This technique was used in the following recipe:
For more information