In The News

International final of the « Meilleur Jeune Chef Rôtisseur » 2012 - The French candidate, Jonathan Moncuit won the silver medal
The international final of the « Meilleur Jeune Chef Rôtisseur » competition 2012, organized by the Chaîne des Rôtisseurs, was held in Berlin on September 14th, 2012. Christina Merz, a German competitor, won the competition. The Frenchman Jonathan Montcuit was placed second overall, and was in first position after the technical part of the competition.
Jonathan Moncuit works at the Auberge du Jeu de Paume in Chantilly under the guidance of Chef Arnaud Faille. He had been specially coached for the competition by Chef Philippe Clergue, Chef Instructor at the Cordon Bleu School in Paris, and culinary advisor for the Chaîne des Rôtisseurs.
The competition, chaired by Mr. David Tetrault, Bailli Délégué of Canada, brought together 22 young competitors from all over the world. They were mainly marked on taste, presentation and recipe originality.
Jonathan Moncuit prepared the following menu:
Thon mariné et crevettes fraîchement pochées
Delicious marinated tuna and fresh poached shrimp
Filet d'agneau cuit à basse température, pommes de terre farcie aux pignons de pin et basilic, asperges thaï et courgettes rôties au romarin
Lamb fillet cooked at low temperature, potatoes stuffed with pine kernels and basil, Thai asparagus and roasted zucchini with rosemary
Panna cotta au citron vert et framboises
Lime panna cotta with raspberries
The Chaîne des Rôtisseurs, a worldwide gastronomic association founded in Paris in 1950; has its origins in 1248 under the reign of Saint-Louis when the professional corporation des Oyers or Ayeurs began as a royal guild of geese roasters. Today, more than 25 000 amateurs and professional members spread widely throughout 70 countries. The Chaîne des Rôtisseurs encourages the training of young chefs through the «Jeune Chef Rôtisseur» competitions. These events offer young talents the opportunity of demonstrating their skills.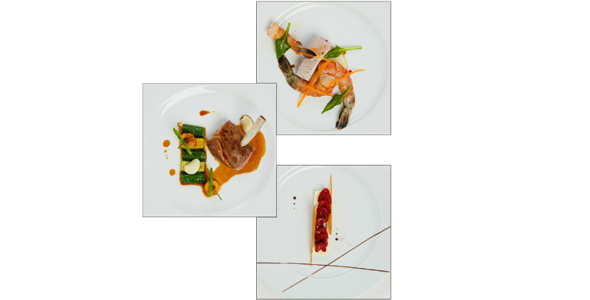 For more information