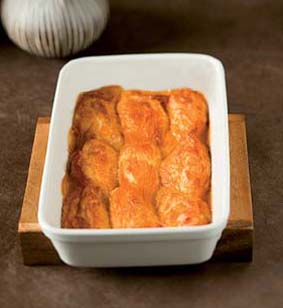 Ingredients
400 g pike fillets, skin and bones removed, cut into pieces (net weight)
1 tsp salt
2 egg whites
350 ml whipping cream
Crayfish sauce
3 shallots
1 onion
½ celery stalk
45 ml oil
16 whole raw crayfish
2 tbsp Cognac
2 tbsp tomato paste
1 liter fish stock or water
1 bouquet garni
Béchamel sauce
40 g butter
40 g plain flour
500 ml milk
1 pinch nutmeg
salt, pepper
butter
A round freshwater fish, the pike is found in the rivers and lakes around Lyon. Pike quenelles coated with a fresh crayfish sauce is typical of this region of France.
Preparation time: 1 hour 30 minutes + refrigeration

Cooking time: 2 hours

Serves 4 – 6 (Makes approximately 16 quenelles)
Method
1. Pike quenelles: Place the fish and salt in a food processor and process for approximately 1 minute until the mixture comes together. Add the egg whites, process again for 20 seconds. Do not over-process the mixture; it will become rubbery rather than creamy. Gradually add the cream, a half or third at a time, processing well each time. Correct the seasoning, transfer to a bowl and refrigerate.
2. Crayfish sauce: Chop the shallots, onion and celery. Heat the oil in a large saucepan over high heat, add the crayfish and cook until they turn red. Use a pestle to lightly crush the crayfish, add the chopped vegetables and continue to cook over medium heat for 5 minutes. Deglaze with Cognac. Add the tomato purée and cook for approximately 1 minute, stirring constantly. Add the fish stock or water and the bouquet garni. Simmer over medium heat for 30 minutes, skimming the surface from time to time. Strain through a china-cap sieve, return to the heat and reduce by two-thirds.
3. Béchamel sauce: Melt the butter in a large saucepan, add the flour, stirring constantly. Cook over low heat for 2 minutes, without allowing to brown, add the cold milk and nutmeg. Bring to the boil, stirring constantly. Lower heat and simmer for 10 minutes, continuing to stir. Season with salt and pepper. Gradually add the crayfish sauce to the béchamel sauce, simmer for 5 minutes. Correct seasoning, keep warm.
4. Preheat the oven to 180°C.
5. Bring a large pan of salted water to a simmer. Form quenelles by scooping the mixture with one spoon and then transferring to another spoon. Continue turning the spoons, one against the other, until a smooth oval shape is formed. Poach (the water must not boil) for 6 to 8 minutes, turning once. Once firm, remove from the saucepan, drain well and arrange in a buttered dish.
6. Pour the sauce over the quenelles and bake for 20 minutes until golden brown.
7.To serve: Remove from oven, serve immediately in the baking dish.