In The News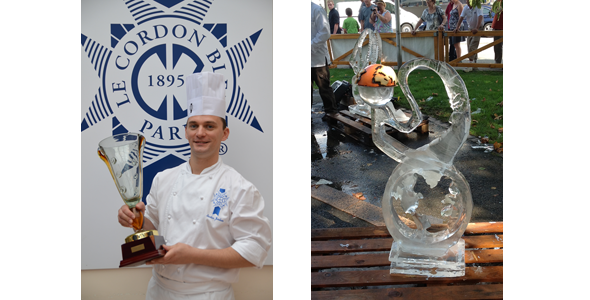 Chef Nicolas Jordan, winner of the 2012 Challenge des Mains d'Or competition
We are delighted to announce that Chef Nicolas Jordan from Le Cordon Bleu Paris won the 'Ice' section of the 2012 Challenge des Mains d'Or competition, which was held in the town of Thônes, Haute-Savoie, France on September 9 2012.
For the 30th anniversary of this competition, each participant prepared an ice sculpture or showpiece that served as support for a frozen entremets representing the theme "Jules Verne". Two identical frozen entremets for six people were prepared (one for tasting and one for presentation) with a compulsory decoration made from nougatine and cigarette batter.
Chef Jordan's work was entitled "From the earth to the moon".
Congratulations Chef Jordan!
For more information